Curated by Rossella Farinotti
Fondazione ICA Milano presents, from Friday October 28 to Friday December 23, 2022, the group exhibition How far should we go? curated by Rossella Farinotti.

The focus of the exhibition is on landscape, deepened and explored from multiple points of view through the works of eight Italian artists, different from each other in generation and linguistic code: Linda Carrara, Lucia Cristiani, Cleo Fariselli, Ettore Favini, Irene Fenara, Silvia Mariotti, Giovanni Oberti and Alice Ronchi.

The title of the exhibition originates from the 2019 work Wherever Yugo, I go by Lucia Cristiani, which featured the phrase "How far should I go to make something of myself?" etched with acid on the windshield of a Yugo, a small and iconic car popular in the former Yugoslavia. The question, while seemingly simple, triggers a reflection focused on the state of mind that frequently pervades those who embark on a journey with a certain sensibility, paving the way for a collective exploration focused on the theme of formalizing the landscape in its multiple interpretations. From the imaginary sceneries that populate our dreams to the real ones captured by the camera, How far should we go? places in dialogue an ecosystem of different works and installations that find their own point of contact in the attempt to escape an increasingly complex and unregulated system.

The exhibition is accompanied by a booklet with texts by Rossella Farinotti, Matilde Galletti and Annika Pettini and enriched by a calendar of meetings, co-curated by Matilde Galletti, aimed at exploring the issues highlighted in the exhibition.
10.11.2022
6 PM
Performance: POSSEDUTE (Carolina Cappelli and Roberto Fassone, with the participation of Giacomo Raffaelli), 35'
Fondazione ICA Milano, Via Orobia 26
Free entrance


25.11.2022
6 PM
Fondazione ICA Milano will present the architect, writer and researcher Suad Amiry and the anthropologist, professor and researcher Iain Chambers in conversation with curator Matilde Galletti. The talk, moderated by researcher/translator from Kurdish and Turkish Francesco Marilungo, will focus on the urgent topic of the Mediterranean migration fluxes and will be followed by the intervention of artists Lucia Cristiani, Ettore Favini and Irene Fenara.
Before the talk, at 5 pm, "Grotto/hand", a sculpture by Marta Pierobon, will be displayed in dialogue with the show. The artist will be present.


17.12.2022
6 PM
Fondazione ICA Milano will present a talk with artist Thomas Berra and Simona Squadrito in dialogue with the exhibition starting from the Praise of Vagabonds by Gilles Clement and will be followed by the intervention of artists Linda Carrara, Silvia Mariotti and Giovanni Oberti. Before the talk, at 5 pm, an intervention by noi x sempre (Federico Cantale, Jimmy Milani, Giacomo Montanelli) will be displayed inside the architecture of the show. The artists will be present.
At 7 pm a closing event with Top 100 by Davide Bertocchi will take place.
Free entrance
*
ARTISTS:
Linda Carrara (Bergamo, 1984) lives and works between Milan and Brussels. She has devoted her work for years to still life and the material and technical research that comes from it, flowing more recently into landscape investigation, elevating the painting itself to the subject of pictorial practice. Carrara has found in the technique of frottage a way to preserve the trace of his places and take the imprint of objects without giving any direct representation of them. In 2013 he was a finalist for the Cairo Prize, and in 2014 he won the Terna Prize - Painting. In 2016 he presented the first solo show at Boccanera Gallery Il pretesto di Lotto curated by Daniele Capra, in 2017 the solo show Looking for the right place at the right moment with writings by Claudio Salvi, at Blanco spaces in Ghent, Belgium. Of 2018 the exhibition A/R at the Italian Cultural Institute in Brussels. In 2019 he opened "Madonna delle Rocce" at Iragui Gallery in Moscow and in the same year he opened his solo show "Chôra" at Boccanera Gallery curated by Giuseppe Frangi. Recent highlights include his solo show at The Open Box Milan and an invitation to Premio Cairo 2021-2022.

Lucia Cristiani (Milano, 1991) lives and works between Milan and Sarajevo. Her artistic research stems from her relationship with the landscape as a matter of investigation, as a point of observation of reality to get in touch with it. Solo exhibitions include Temporary North Star, curated by Gabriele Tosi and Fabio Farnè, Localedue, Bologna (2020); How far should I go to explode?, House of Displacement, curated by CampoBase, promoted by Fondazione Sandretto Re Rebaudengo (2019); Hyper-faded Ordinary Life, curated by Carlo Sala at Tra, Treviso Ricerca Arte, Ca' dei Ricchi, Treviso (2018); The Grace of Maybe, curated by UNA galleria, GAM, Galleria Arte Moderna Achille Forti, Verona (2018); This will fix you, curated by Gloria Paolin, at t-space, Milan (2016); Rosa decisivo at Placentia Arte, Picenza (2015). Cristiani has also exhibited her work in several group exhibitions including: Porta Portese curated by Gaia Bobò at Spazio Mensa, Rome (2021); Macina curated by TreTre at Viafarini. Work,Milan (2021); Pelle d'oca at The Address Gallery, Brescia (2021); L'amor che move il sole e l'altre stelle, curated by Massimiliano Finazzer Flory, Citylife, Milan (2021); L'aureola delle cose, sentire l'habitat, curated by Guido Molinari, Pinacoteca Nazionale di Bologna (2020); Total Recall, curated by Rossella Farinotti at Galleria Bianconi, Milan (2020); To Make Something of Myself, DAS, curated by Rossella Farinotti, Milan (2019); Immersione Libera curated by Giovanni Paolin in collaboration with Galleria Continua and with Bagni Misteriosi, Milan (2019); International Pilot Film Festival #1 curated by Matthieu Reijnoudt and Koen Kievits, Arnhem (2018); VideoSalon at Duplex 100 m2 Gallery, curated by Pierre Courtin, Sarajevo (2016). Workshops include: ArteVisione, curated by Careof and Sky Arte, visiting Professor Omer Fast, Milan (2017).

Cleo Fariselli (Cesenatico, 1982) lives and works in Turin, Italy. An artist and performer, Cleo Fariselli's research evokes the suspended realm of the liminal and its imaginative, destabilizing and transformative potential. Her recurring themes include looking and being seen, the body as landscape and instrument, the feminine and water, and the relationship between actuality and the unconscious. Her work has been exhibited in major public and private institutions in Italy and abroad including CAC - Contemporary Art Center, (Cincinnati, USA, 2022); Fondazione Sandretto Re Rebaudengo (2022); GNAM - Galleria Nazionale d'Arte Moderna (Rome, 2021); Palazzo Fortuny (Venice, 2017 and 2018); Centro Pecci (Prato, 2017); EACC (Castellò, Spain, 2013); Palazzo Reale (Milan, 2008 and 2011). In 2021-2022 she was awarded the Italian Council production open call.

Ettore Favini (Cremona, 1974) lives and works in Cremona. A lecturer in Visual Arts at the Nuova Accademia Belle Arti NABA in Milan and in Painting at the Accademia di Belle Arti G. Carrara in Bergamo, Ettore Favini has centered his research and work around the relationship between the work, the environment in which it is placed and people. Memories, individual and collective, are often at the center of a path that moves from autobiographical inspirations to elaborate universal themes such as time and existence. Favini tackles the concept of identity, seeking new dimensions. His works are the open synthesis of a multitude, the meeting place of a plurality of experiences that escape the too rigid concepts of unity and totality. The artist has won both national and international awards and prizes, and his works have been exhibited in major Italian and international institutions: Museo del Novecento, Milan; PAC, Milan; Galleria d'Arte Moderna, Milan; Fondazione Sandretto Re Rebaudengo, Turin; Villa Croce, Genoa; Villa Medici, Rome; American Academy, Rome; MAN, Nuoro; Italian Academy, New York; IIC, Tirana; SongEun Art Space, Seoul; Autostrada Biennale, Prizren; Domaine de Chamarande, Paris.

Irene Fenara (Bologna, 1990) lives and works between Milan and Bologna. Irene Fenara's work investigates the gesture behind every photographic operation: in particular, she observes, studies and interprets the way machines look, they are in fact hundreds of mechanical gazes in front of which we pass every day. Irene Fenara focuses on surveillance cameras, devices introduced and widespread for reasons of control and security, or rather to protect us from others, which, however, also trigger a series of insecurities. The photographs in the series Supervision, are part of an ongoing project since 2018, hacking into cameras of private individuals, and venturing into an unregulated area with large regulatory gaps, Irene appropriates these images by reversing the relationship between observed and observer. Her work has been exhibited in public and private institutions such as Fondazione Prada Osservatorio (Milan 2016), Fondazione Fotografia (Modena 2017), MAMbo (Bologna 2018), Palazzo delle Esposizioni (Rome 2018), Kunst Merano Arte (Merano 2019), MAXXI (Rome 2021), Triennale (Milan 2021), and MACRO (Rome 2021).

Silvia Mariotti (Fano, 1980) lives and works in Milan. She graduated in painting from the Academy of Fine Arts in Urbino. Her research develops through the layering of elements drawn from history and literature and cultural and social symbols that evoke a sense of unreality, hovering between mystery and marginality. Through photography and installation, she returns to the image the suggestions and experiences she has lived, telling of ambivalent worlds, mostly nocturnal, that generate a kind of temporal suspension and at the same time open to new interpretations. In 2013 she won the first prize, for the photography section, of the Celeste Prize. In 2016 she arrives as a finalist at the 9th edition of the Talent prize in Rome, in the same year she held the FAAP artistic residency program in São Paulo, Brazil. In 2019 she is a finalist in the Rotary Club of Asolo prize and in the same year she wins the Level 0 prize with GNAM in Rome within Art Verona, while in 2020 she publishes her artist book "De uma estrala à outra" published by Boîte Edition. She exhibits in several galleries and public spaces in Italy and abroad, including the Museum of Contemporary Art in Lissone, the Civic Museum in Recanati, Villa Manin in Passariano, the Civic Gallery in Piran (SLO), The Lutetia Palace - FAAP in São Paulo (BR), the Ducal Palace in Urbino and the Center for Graphic Arts in Ljubljana, and MACTE in Termoli.

Giovanni Oberti (Bergamo, 1982) lives and works in Milan. He studied at the Giacomo Carrara Academy of Fine Arts in Bergamo, where he graduated in 2006. He has held several solo exhibitions in Italy and abroad, including Walls feel love and anger, but also loneliness and illness. They don't know what music is, they just repeat it, curated by Matilde Galletti, Palazzo Brancadoro, Fermo, 2020; Lakes of vinegar, TILE project space, Milan, 2016; They honored, Munich Kunstverein, curated by Chris Fitzpatrick, Munich, 2015; I fiori in tasca, Galleria Enrico Fornello, Milan, 2012; 8, with Elio Grazioli curated by Chiara Agnello, Careof, Milan, 2010; Placentarium, curated by Marinella Paderna, Galleria Placentia Arte, Piacenza, 2009. Group exhibitions include: Panorama, Fondazione del Monte, curated by Claudio Russo, Bologna, 2019; Dalla luna ai piedi, with Andrea Zucchini, Current, Milan, 2018; Toute premiére fois, 22 Visconti, curated by Francesca Napoli and Armelle Leturcq, Paris, 2016; The excluded third, included, curated by Postborther, Emanuel Layr Gallery, Vienna, 2014; Veerle, curated by Chris Fitzpatrick, Fondazione Sandretto Re Rebaudengo, Turin, 2013; SC13, curated by Chris Fitzpatrick, San Francisco, 2010; The autumn harvest was plentiful, curated by Chiara Agnello and Milovan Farronato, Careof and via Farini, Milan, 2009.

Marta Pierobon (Brescia, 1979) lives and works in Milan. She graduated from the Academy of Fine Arts in Florence.
Between 2006 and 2007 she worked as an assistant for Urs Fisher and Anna Galtarossa, in 2010 she co- founded "Spazio Morris" in Milan.She is represented by A Palazzo Gallery, Brescia (IT). Between 2007 and 2022 she has had exhibitions in many institutions and project spaces such as: at MAMBO (Bologna), ICA in (Milan),Viafarini (Milan), Espirit Nouveau (Bologna), Duet Space (St.Louis), Soloway (New York), Neon fdv (Milan), Museo of Santa Giulia (Brescia), Art in general (New York), Localedue (Bologna); and in many art galleries: Kate Macgarry (London), Plutschow gallery (Zurich), 78 Lyndhurst way (London), A Palazzo Gallery (Brescia), Galleria Daniele Agostini (Lugano), Marian Boesky within the project by Lucie Fontaine (New York).She attended different residency programs such as LMCC in New York, Cars residency program in Omegna (Novara) and Fonderia Battaglia artist residency in Milan.In 2020 she is finalist for the Michetti Award curated by Guido Molinari.In 2012 she wins the "Premio Lombardia" at Mart, in the same year she is selected by Ilaria Bonaccossa for the Cairo Award. Her work has been reviewed in different magazines like: Flash Art, Corriere della sera, arte e critic, art*text*pics, Fruit of the Forest, Forme uniche, Artribune, Marie Claire, il giornale dell'arte and Bre. She teaches at the Academy of Fine Arts in Brescia.
Alice Ronchi (Milan, 1989) lives and works in Milan. She graduated in 2012 from the New Academy of Fine Arts in Milan and in 2015 from the Sandberg Insituut in Amsterdam. She has exhibited in group shows at the Milan Triennale, Palazzo Reale, MAMBo in Bologna and MAXXI in Rome. Solo shows include Colazione sull'erba (2014) and Majestic Solitude (2018) at Francesca Minini Gallery, A Dinosaur Can Be Vain (2015) at Fons Welters dI Amstedam Gallery, and several others including project spaces and permanent works in public places. She has been teaching at the New Academy of Fine Arts (NABA) in Milan since 2020 and frequently collaborates with institutions and schools for which she develops workshops for children. In her works everyday objects meet the world of invention and imagination. The search for "wonder" is a constant theme in her research, populated with familiar yet enigmatic figures, the product of her own abstract reworking. Somewhere between the playful and the minimal, her work is a synthesis of rigor of form and simplicity of expression. With the use of different media, ranging from sculpture to photography, and from performance to video, Alice interrogates reality through an attentive and curious gaze, returning to us her own magical vision.

Federico Cantale
Legnano (MI), 1996; lives and works in Milan
Within his sculptural research, the artist rethinks the sensitive knowledge of forms drawing from human history intuitions and everyday discoveries. His works appear as distillations of a spontaneous and varied visual vocabulary, the result of a system of representation regulated by geometry and modular flat surfaces.
Among his exhibitions: "Sognidoro", Spazio Sanpaolo Invest, Treviglio (2022); "Guardaroba", Schiavo Zoppelli Gallery, Milan (2021); "Primary domain", Ordet, Milan (2021); "A healthy dose of confusione before the bang", Federica Schiavo Gallery, Milan (2020); "The Call to Adventure", Fondazione Pini, Milan (2018); "Zeitkapsel", Galerie der Stadt Sindelfingen, Germany (2016).

Jimmy Milani
Savigliano (CN), 1995. Lives and works between San Miniato (PI) and Milan.
MFA in Visual Arts address Painting at Academy of fine arts Brera, Milan (2017\2019); BFA in Painting at Academy of fine arts Brera, Milan (2014\2017) Solo and Group Exhibitions: Esco da qui, Studiolo, Milan (2022), curated by Antonio Di Mino and Maria Chiara Valacchi; Primary Domain, Ordet, Milan (2021), curated by Edoardo Bonaspetti and Stefano Cernuschi; NOI X SEMPRE(Federico Cantale,Jimmy Milani, Giacomo Montanelli), Studiolo, Milan (2021), text by Maria Chiara Valacchi; Salon Palermo, Rizzuto Gallery, Palermo (2021), text by Antonio Grulli; ENTR~ACTE, Renata Fabbri, Milan (2021), text by Chiara Alice Guidi; Degree show, Palazzo Monti, Brescia (2020), curated by Edoardo Monti; luna piena, Residenza la fornace, Milan (2020), curated by Edoardo Manzoni and Giada Olivotto; Simposio di pittura, Fondazione Lac o le Mon, San Cesario, Lecce (2019), curated by Luigi Presicce; The Wall Project No. 9, Angelo della pergola 1, Milan (2020), curated by Alessia Romano and Federico Montagna; In the spirit of being with, Cripta747, Turin (2020), curated by Lisa Andreani and Sonia D'Alto; "Passion for the Path of Art" Cardi gallery, Milano (2019), curated by Ilaria Bnacossa; NOI X SEMPRE (Federico Cantale,Jimmy Milani, Giacomo Montanelli), Yellow, Varese (2019), text by Simone Ciglia; Amaretto, Villa Vertua masolo, Nova Milanese (2019), organized by Giacomo Montanelli; Incontro #14-The Call to Adventure, Fondazione Pini, Milan (2018), curated by Leonardo Pellicanò, Gianni Caravaggio and Adrian Paci;

Giacomo Montanelli, San Miniato (PI), 1996, lives and works between Milan and San Miniato. He graduated in painting at the Brera Fine Arts Academy. His work has been exhibited in some galleries and institutions including: Keteleer Gallery (Antwerp), Fondazione ICA (Milan), Ordet (Milan), Fondazione Pini (Milan), Studiolo Project (Milan), Galleria Renata Fabbri (Milan), Cardi Gallery (Milan), Villa Vertua Masolo (Nova Milanese), Toast Project Space Manifattura Tabacchi (Florence). He has participated in residencies including: Cantieri Aperti (Massa), Simposio di Pittura at Fondazione Lac o Le Mon (Lecce), Residenza La Fornace. He participated in theclassroom workshop with Emanuele Coccia and Luca Trevisani. His works are published in Nero Magazine, Flash Art, ATP Diary, exibart.
THE CURATOR
Rossella Farinotti is a contemporary art critic, curator and journalist. Since 2020 she has been professor at the Università Catolica and NABA in Milan. She collaborates with publications such as "Flash Art Italia", "Mymovies", "Exibart" and "Zero". Since 2016 she has been executive director at the Archivio Gio' Pomodoro. Since 2018 she has been curator of the collection "The Magic Kingdom" for the brand Sergio Rossi and collaborates with Cittadella degli Archivi in Milan for site-specific projects such as the public work "La città che sale" by Vedovamazzei. From 2009 to 2011, she was an assistant to the Councillor for Culture in Milan. In recent years she has curated exhibitions of artists of her generation; worked for private and public institutions; and held workshops and talks on issues of the relationship between art and business, public art, and critical writing workshops. She has a degree in Science of Cultural Heritage from the State University of Milan (2006) and a postgraduate diploma in Communication and Organization of Contemporary Art from the Brera Academy (2008). Since 2014 he has lived and worked between Milan and Chicago.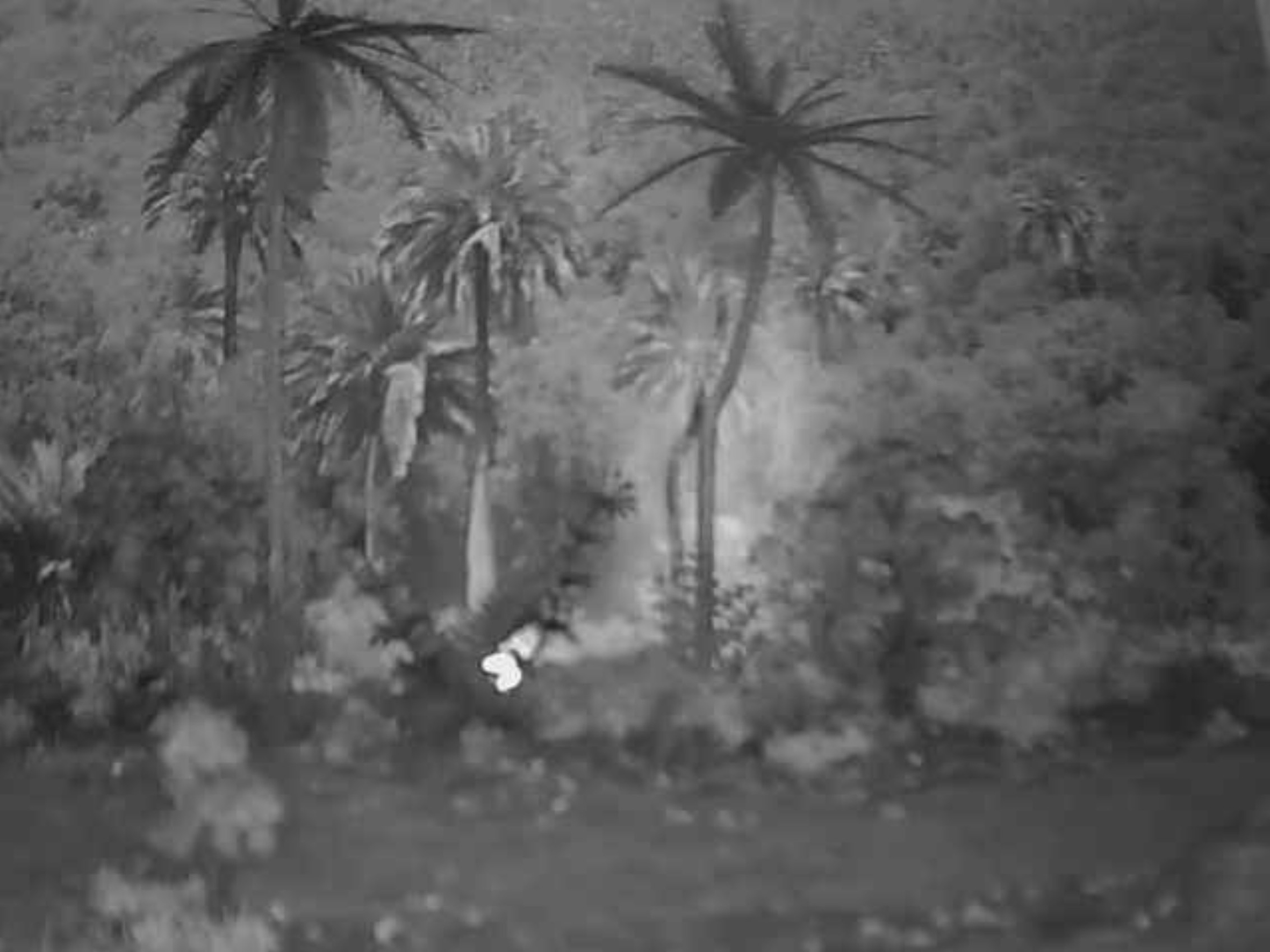 Irene Fenara, Supervision, cm 120x90, 2022, stampa inkjet, courtesy l'artista e ZERO...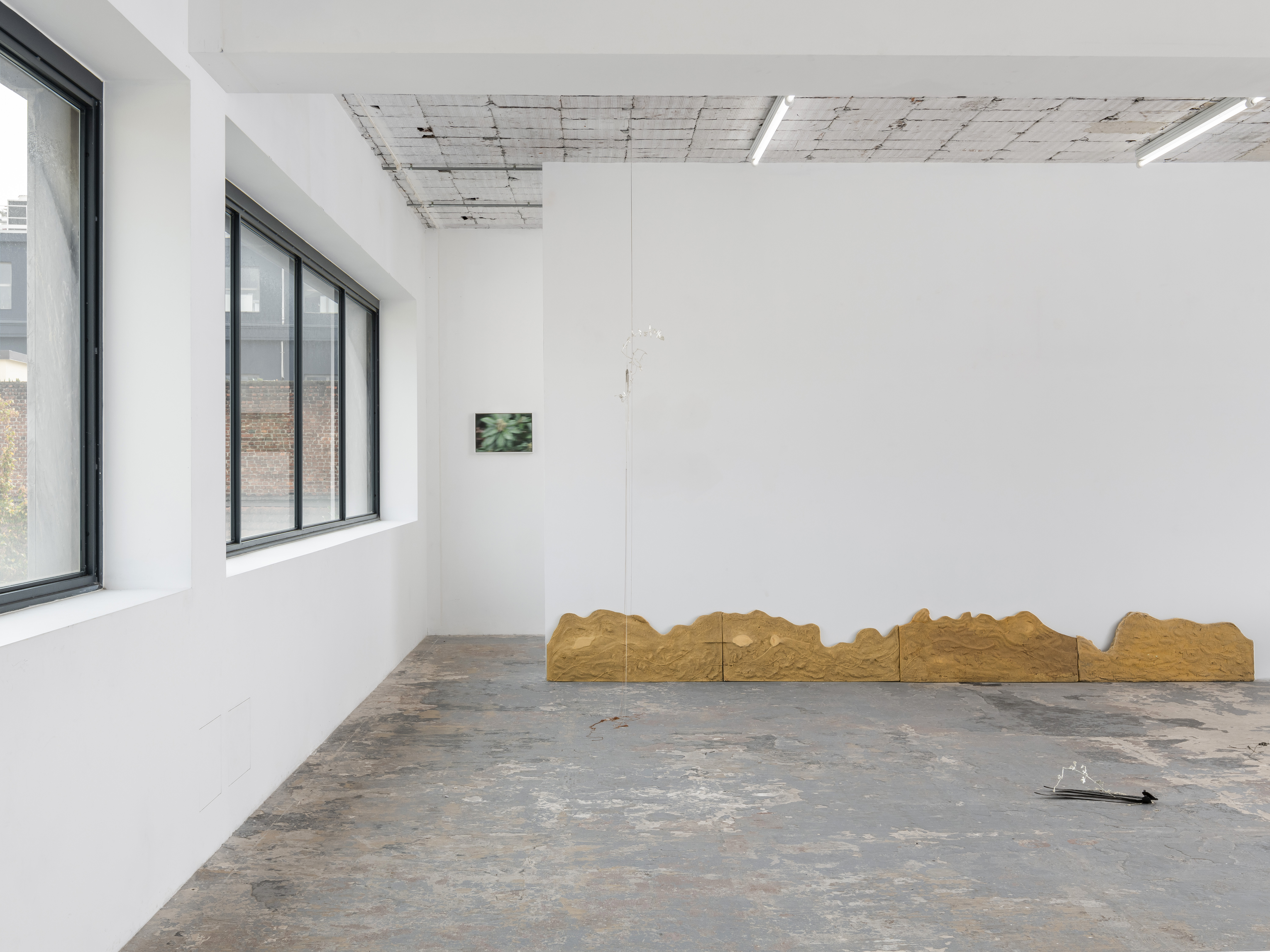 "How far should we go?", installation view, Fondazione ICA Milano, Milan, 2022. Ph. credits: Cosimo Filippini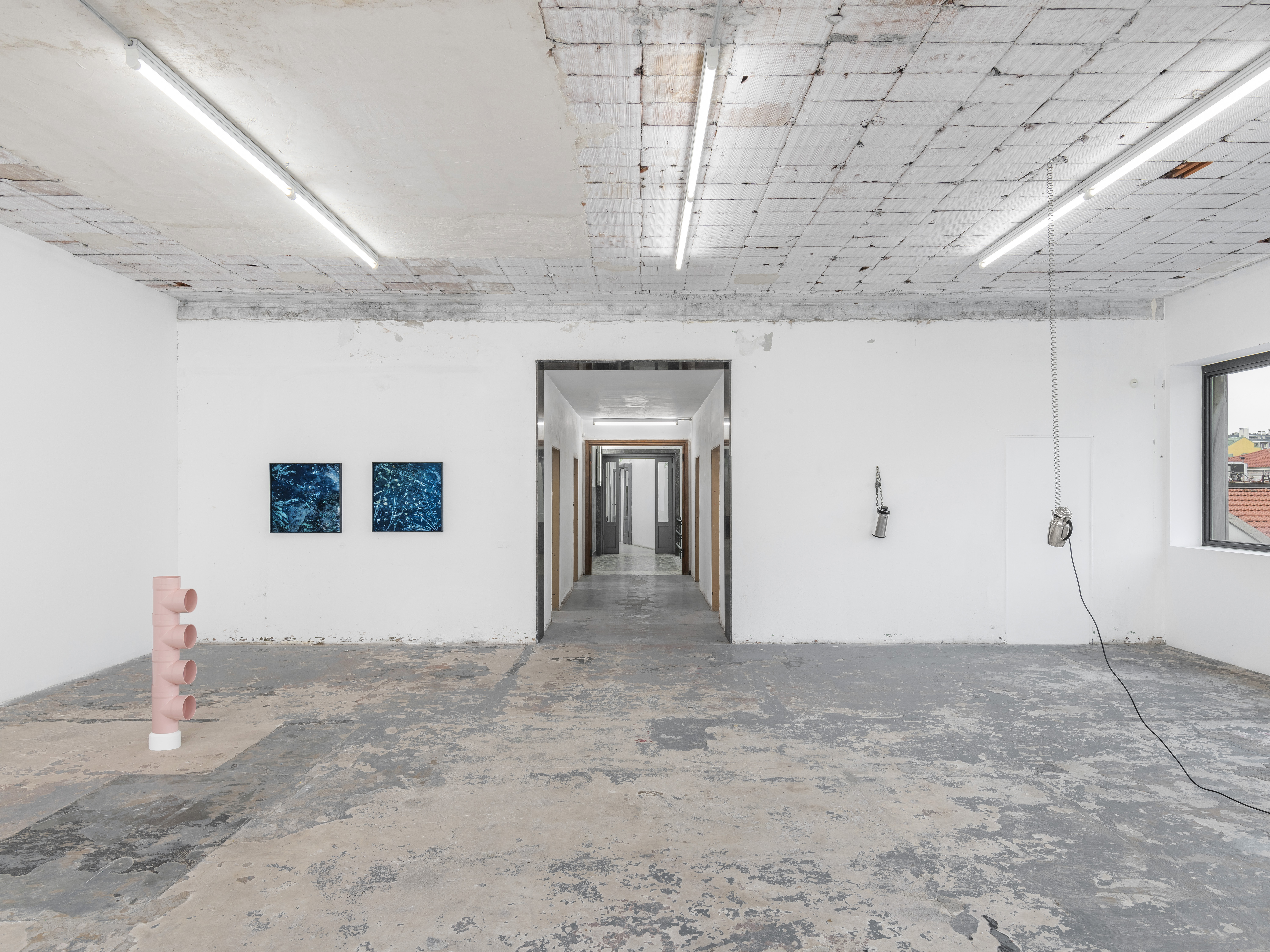 "How far should we go?", installation view, Fondazione ICA Milano, Milan, 2022. Ph. credits: Cosimo Filippini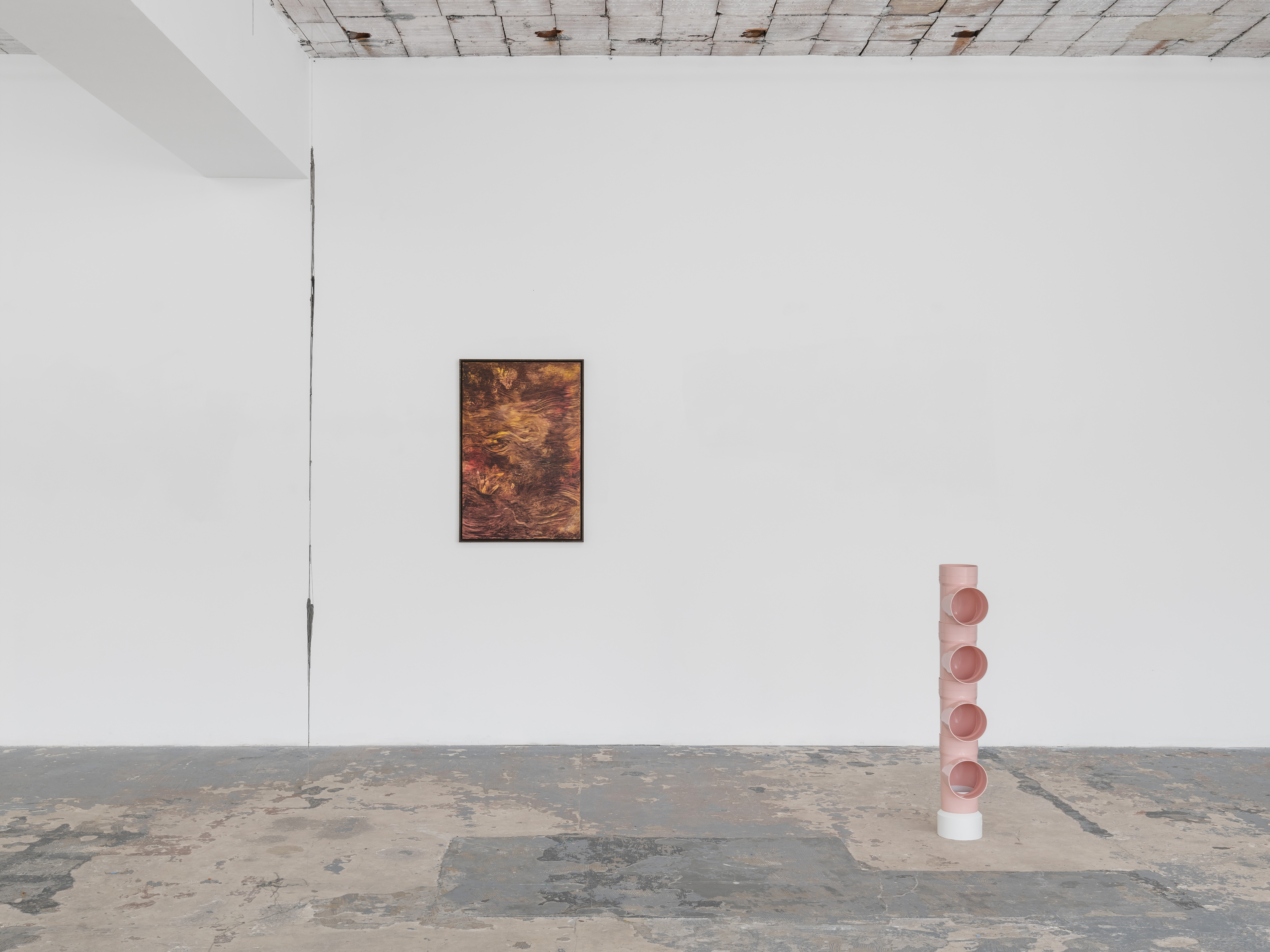 "How far should we go?", installation view, Fondazione ICA Milano, Milan, 2022. Ph. credits: Cosimo Filippini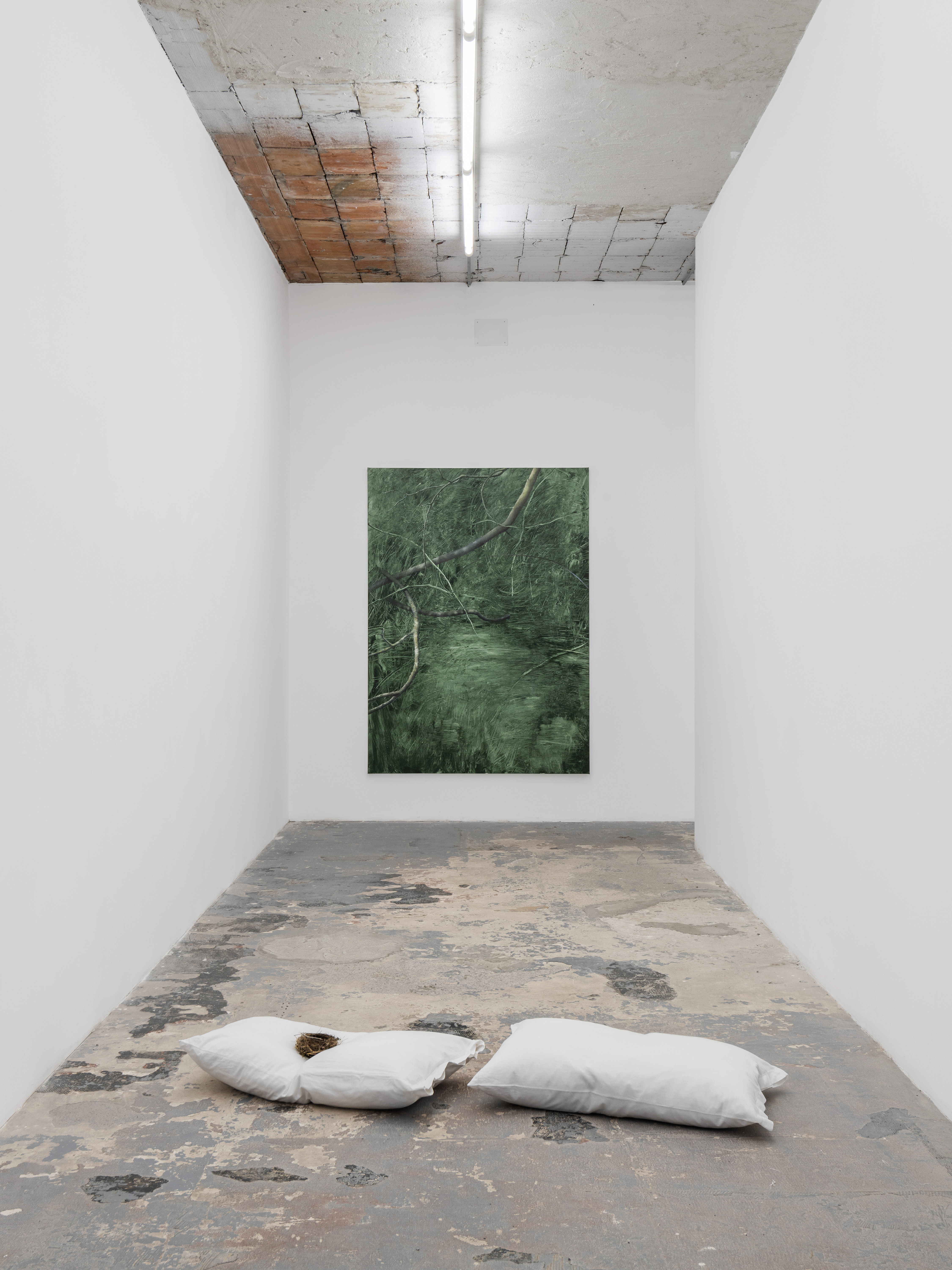 "How far should we go?", installation view, Fondazione ICA Milano, Milan, 2022. Ph. credits: Cosimo Filippini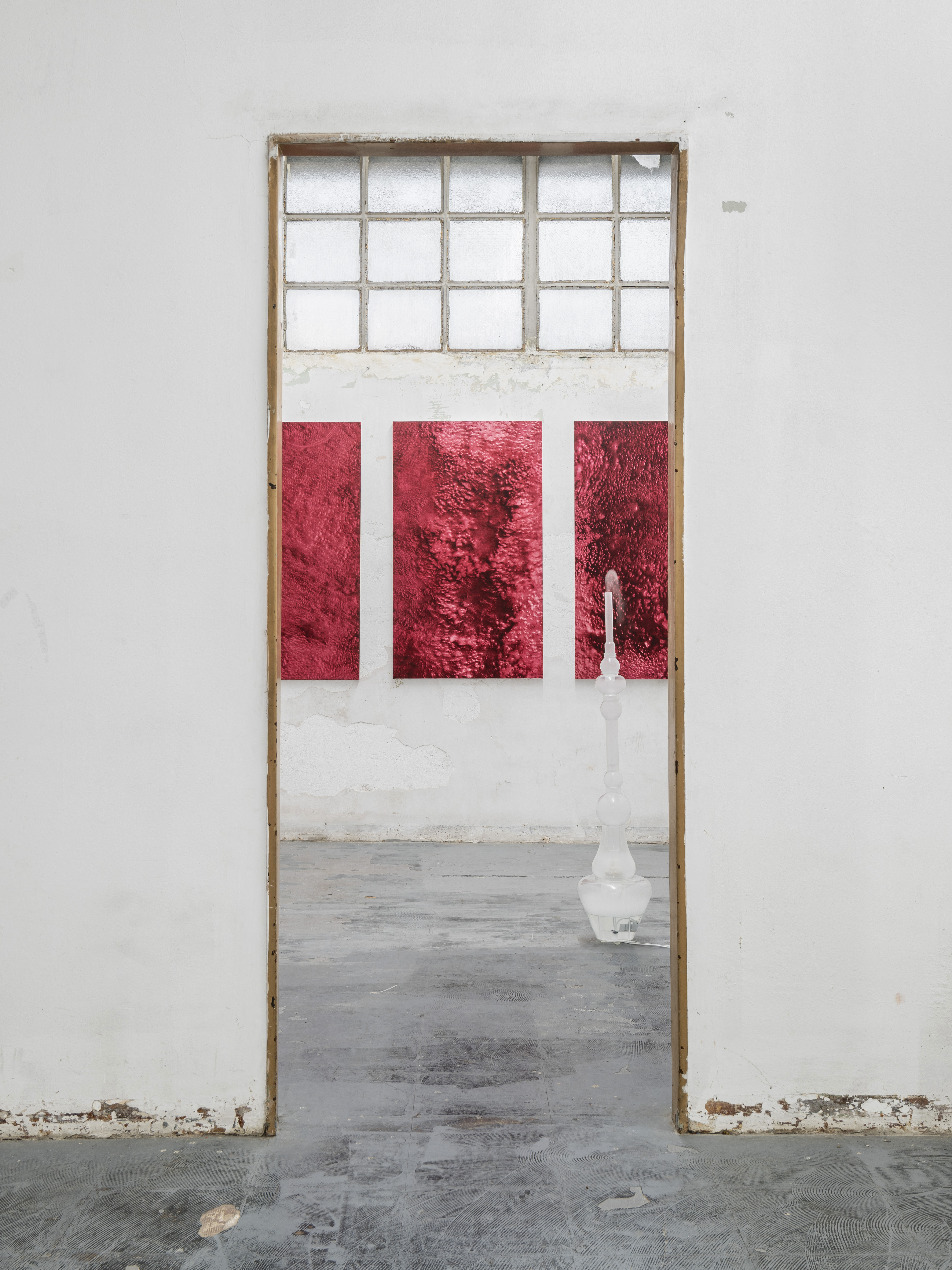 "How far should we go?", installation view, Fondazione ICA Milano, Milan, 2022. Ph. credits: Cosimo Filippini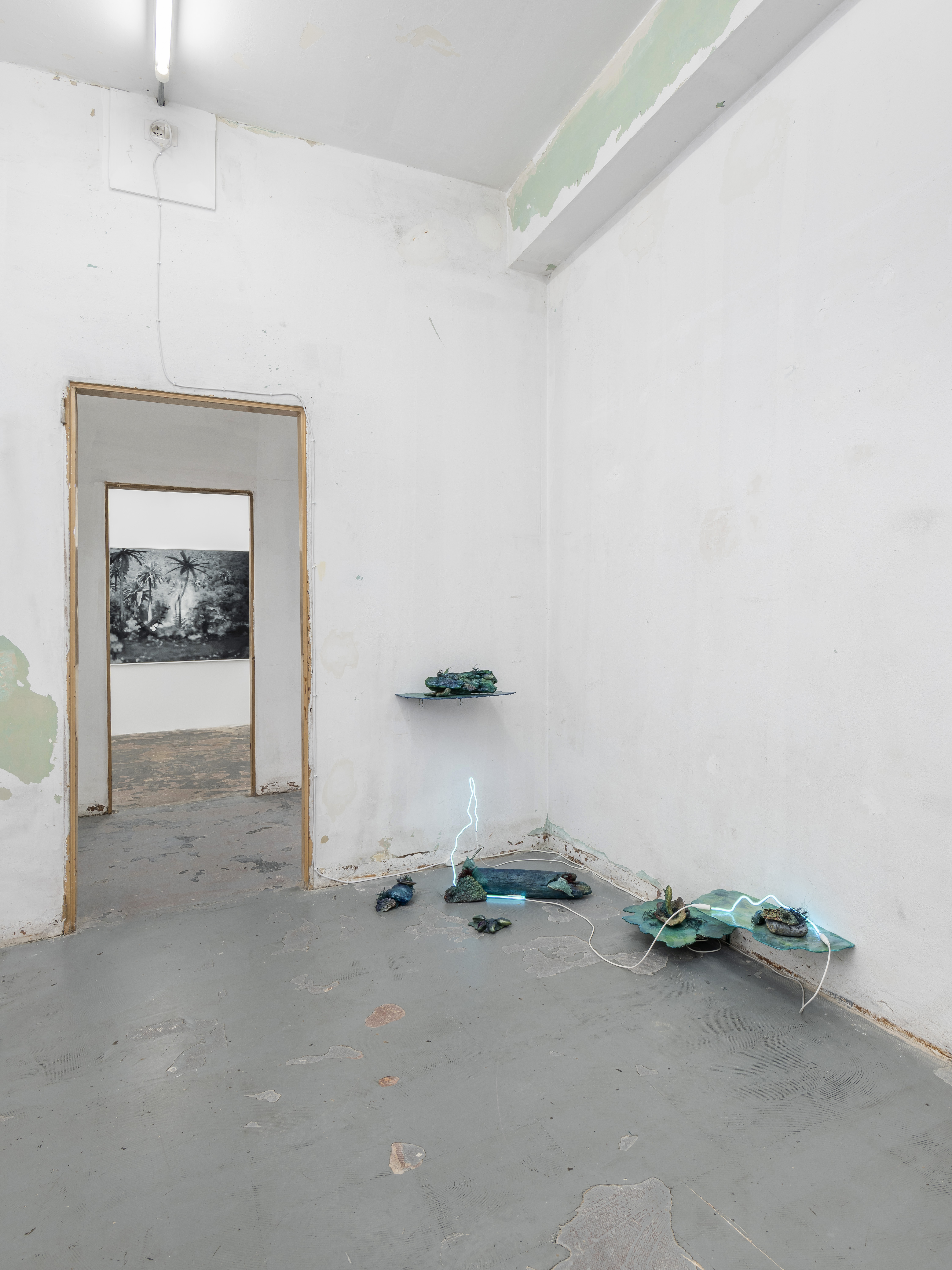 "How far should we go?", installation view, Fondazione ICA Milano, Milan, 2022. Ph. credits: Cosimo Filippini
"How far should we go?", installation view, Fondazione ICA Milano, Milan, 2022. Ph. credits: Cosimo Filippini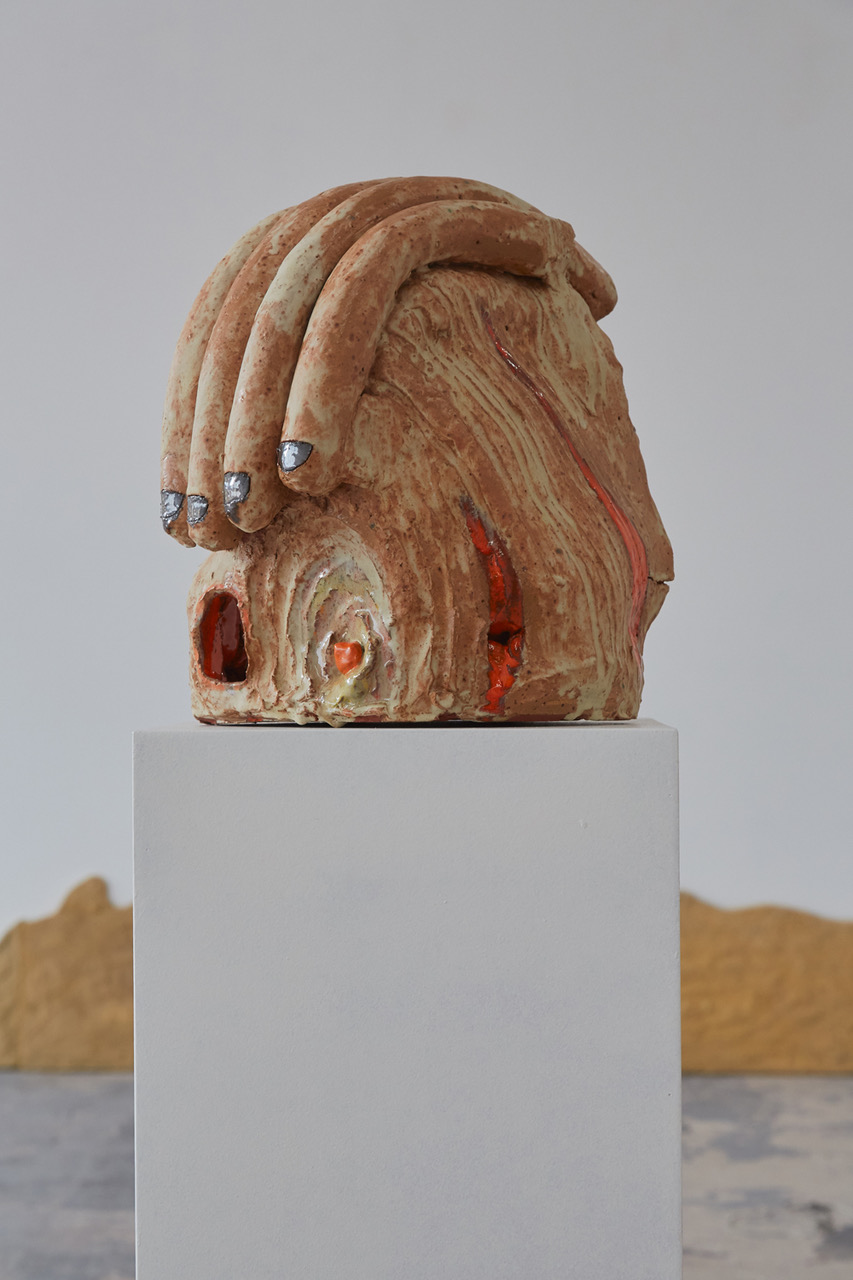 Marta Pierobon Grotto/hand, ceramica, 2022 ph. Mattia Pastore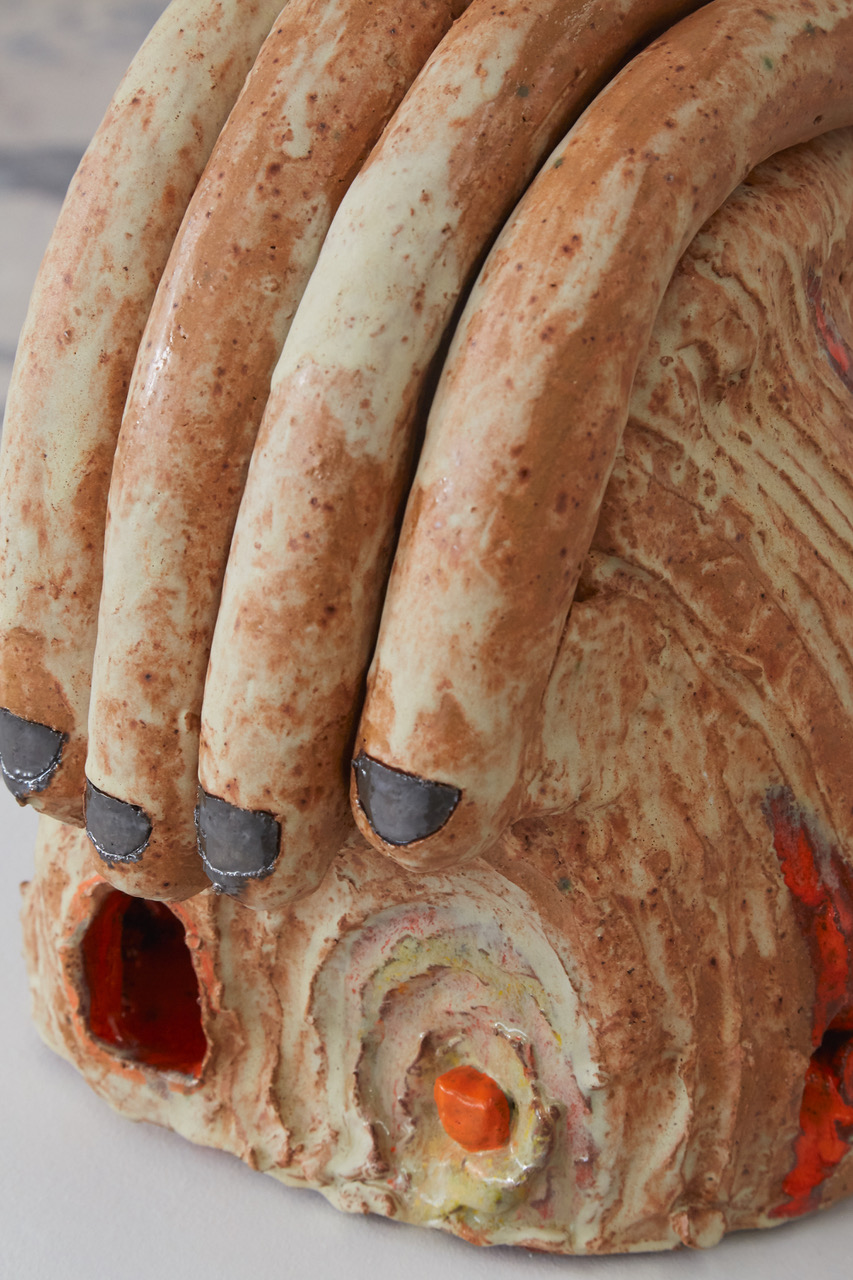 Marta Pierobon Grotto/hand, ceramica, 2022 ph. Mattia Pastore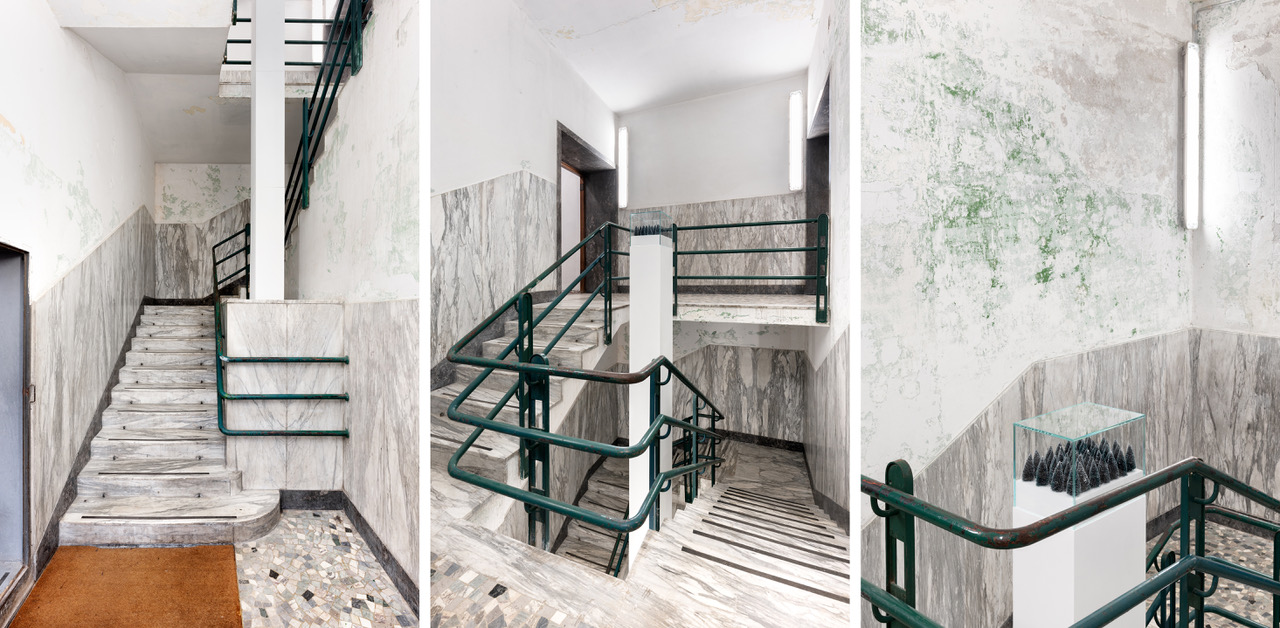 Noi x sempre Federico Cantale Jimmy Milani Giacomo Montanelli Calda aspirazione cm 399x40x30 legno verniciato, vetro, setole e acrilico ph. Michela Pedranti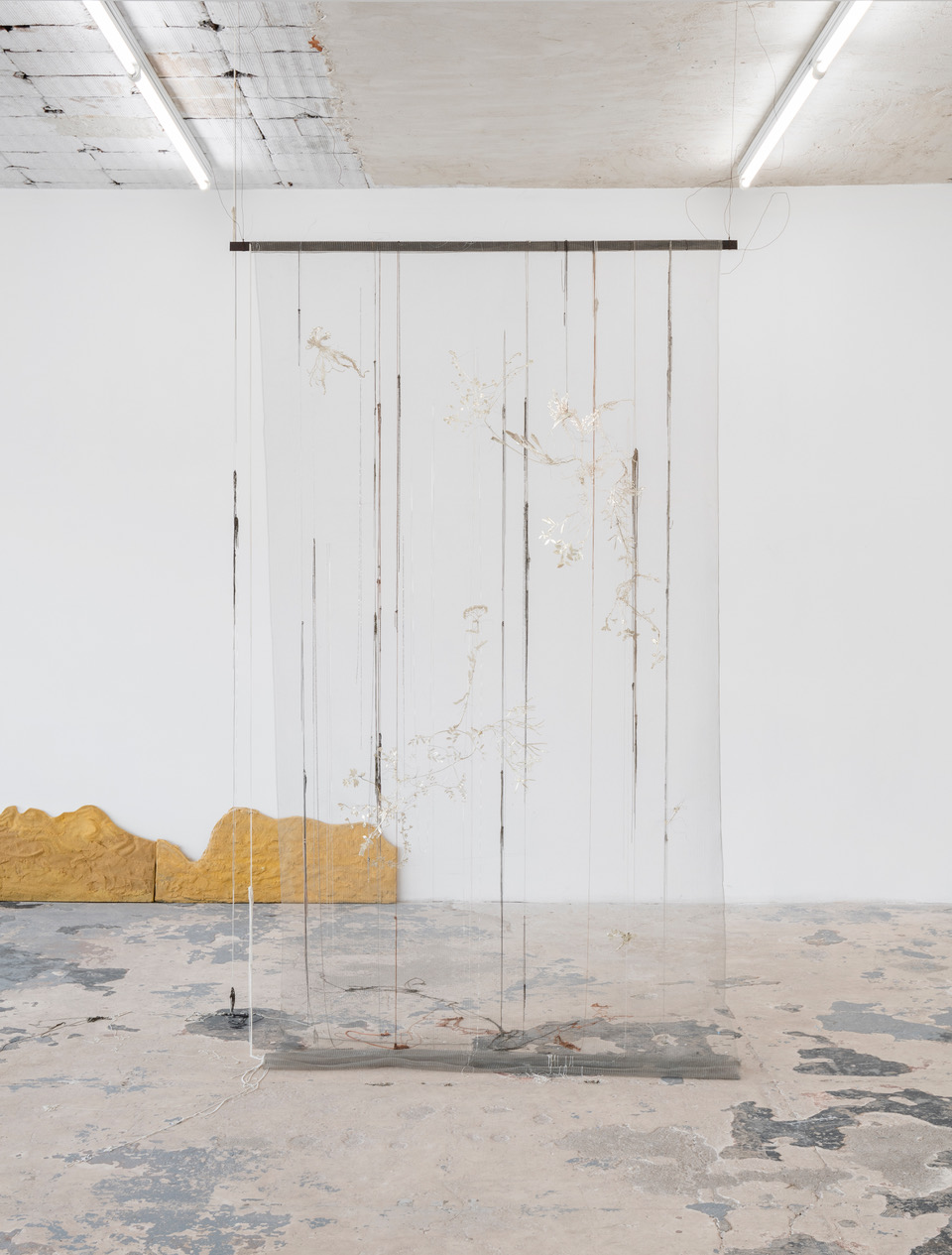 Lucia Cristiani, Arazzo, 2022 Ettore Favini, Fragili rive, 2022 ph. Cosimo Filippini, courtesy the artist and Fondazione ICA Milano, Milan, 2022