Calendar of digital conversation realized in collaboration with MAN Museo d'Arte della Provincia di Nuoro
Connessioni Inventive
Curated by Luigi Fassi and Alberto Salvadori


Connessioni Inventive is an original project dealing with the commission and production of an agenda of digital conversations. These talks are conceived as moments dedicated to education and in-depth study and are resulted by the collaboration between two Italian institutions of contemporary art and culture, MAN Museo d'Arte della Provincia di Nuoro and Fondazione ICA Milano. The project aims to foster a path for the promotion of humanistic studies through interdisciplinarity by using methods and languages widely accessible.

Within the peculiar condition of social distance and lack of interpersonal relationships determined by today's global upheaval destined to provoke fundamental changes among our lives, MAN and ICA constitute a program of digital lectures in order to offer a contribution of analysis and interpretation entrusted to different influential Italian professionals.

Each appointment will be available in live streaming on the Facebook page of MAN Museo d'Arte Provincia di Nuoro (@museoman) and on the Instagram account of ICA (@ica_milano), each Thursday at 11 am. The contributions will be later available on the dedicated Youtube channel (Connessioni Inventive) to build an ever going accessible archive.
The scheduled appointments of May are:
Thursday 7th May | Alessandro Carrera, For a non hierarchical gaze
Thursday 14th May | Francesca Recchia, About the elsewhere
Thursday 21 May | Maria Cristina Didero, Design is about people and not about chairs
Thursday 28 May | Anna Bortolan, The experience of emotions: feeling, evaluating, narrating
April appointments:

Thursday 9th April | Alessandro Salice, With you, without you: the dynamics of loneliness
Thursday 16th April | Giovanni Leghissa, The bond and the freedom
Thursday 23rd April | Luca Scarlini, The fake appearance: for an aesthetic of counterfeiting
Thursday 30th April | Riccardo Venturi, Showing the invisible. Visual art after Fukushima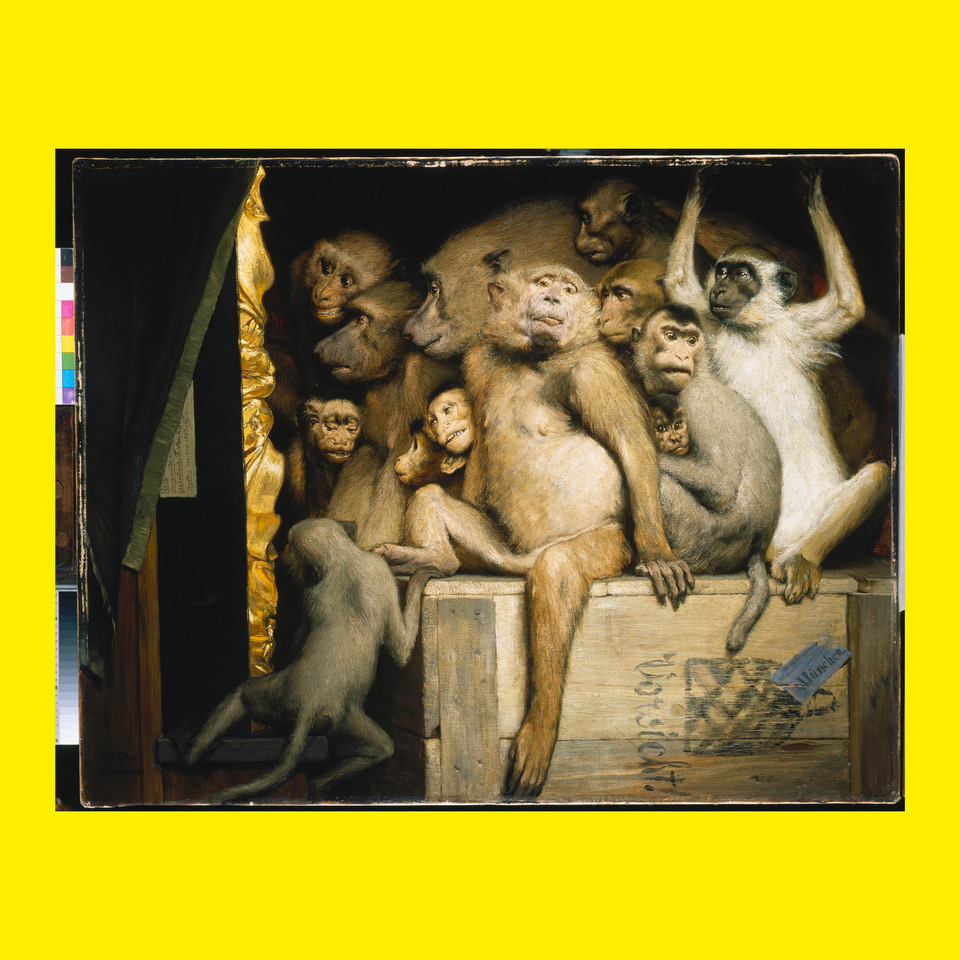 Gabriel Von Max (1840-1915), Scimmie come critici d'arte / Monkeys as art critics, oil on canvas, Neue Pinakothek, Munich. Ph. Bayer & Mitko. Credits: Bayer & Mitko / Artothek / Archivi Alinari.