OPEN CALL

the classroom #7
ICA Milano Foundation and the classroom collaborate on the 7th edition of the art class project launched in 2016 by the art and education center directed by Paola Nicolin. Together they present the classroom #7, a class dedicated to the theme of Metamorphosis and led by the philosopher Emanuele Coccia and the artist Luca Trevisani.
This new educational appointment, which was to be held in the spaces of ICA Milano, will take place from Monday 29th June to Thursday 2nd July 2020 combining online interaction and outdoor activities, theoretical lessons and workshops.
The seminar will be held in English with a maximum of 25 participants.
To subscribe, please send your cv and motivational letter to rsvp@icamilano.it from the 12th to the 19th June 2020.
The participation fee is 35 euros.
In a continuous game of cross-references between science and art, enigmas and liquidity, human beings and the natural world, the class will tackle the theme of Metamorphosis. Participants will be guided by the free flow of Luca Trevisani's artistic practice and the insights of Emanuele Coccia, who has always been fascinated by the natural world and the genesis of the living as unity.
Conceived according to the methodology of the classroom, the course includes a series of meetings with the teachers. Moments of reflection and confrontation accompanied by exercises and final discussions. The seminar will develop through moments of online interaction and outdoor lessons in Milan, reflecting the historical theme of the garden as an ideal place for learning and training.
The teachers will produce a syllabus that encloses the topics of the lessons, consisting of works, texts and bibliographical references that will include the core theme of the class and the discussions emerged.
According to an historical moment characterized by the physical closure of schools and the necessary adaptation of students, teachers and families to new methods of distance learning, ICA Milano and the classroom aim to redefine the theme of education to the arts by rethinking methods of content production and transmission of knowledge.
The first note book of the classroom is edited by Flash Art Italia, media partner of the project.

HOW TO PARTICIPATE AND GENERAL INFORMATION:
Tutors:
Emanuele Coccia (philosopher)
Luca Trevisani (artist)

Theme: metamorphosis

Venues: on line and in different places of Milan (according to the sanitary norms due to COVID-19)

Dates: 29th June - 2nd July 2020

Prerequisites: the open class is dedicated to students at their last years of university/academy who are interested in philosophy and art


Language: the selected main language is English but the team of classroom is available for translations or communication support for students in Italian.

How to participate: the admission is made through a selection by the tutors of the class. Those who are interested are invited to send a short CV (10 lines) and a motivational letter explaining shortly the interest for the class.
Please apply at rsvp@icamilano.it within 19th June 2020.

Fee: 35 euros including the lessons and a syllabus conceived by the tutors in relation to the topics developed for the class.


//


Emanuele Coccia
Emanuele Coccia is associate professor of philosophy at the École des hautes ètudes en sciences sociales (EHESS) in Paris. He has been invited as a professor-researcher by the universities of Tokyo (2009), Buenos Aires (2010), Düsseldorf (2013-2014), Columbia University of New York (2015-2016), Weimar (2019), Munich (2020).
Among his books: The Sensitive Life (2010, translated into six languages); Il Bene nelle cose (2013, translated into 6 languages); La vita delle piante (2016, translated into 10 languages), and Metamorphoses (Payot 2020, translation in progress at Einaudi Stile Libero). In 2019 he contributed to the exhibition Nous les Arbres, presented at the Fondation Cartier pour l'art contemporain in Paris.

Luca Trevisani
Luca Trevisani is a visual artist.
His multidisciplinary practice has been exhibited internationally in museums and institutions.
Trevisani has published several books including The effort took ist tools (Argobooks 2008),
Luca Trevisani (Silvana Editoriale 2009), The art of Folding for young and old (Cura Books 2012),
Water Ikebana (Humboldt Books, 2014), Grand Hotel et des Palmes ( Nero, 2015), (Humboldt Books, 2018).
Trevisani research ranges between sculpture and video, and crosses borderline disciplines
such as performing arts, graphics, design, experimental cinema and architecture, in a perpetual magnetic and mutant condition. In his works the historical characteristics of sculpture are questioned or even subverted, in an incessant investigation of matter and its narratives.


THE CLASSROOM
the classroom is a center of art and education that as inaugurated its activity in Milan in April 2016 inside the historical former school building that from 1972 to 2011 contained one of Casa dei Bambini – House of children Montessori School in Milan. the classroom operates nomadically, producing each time site-specific classrooms and empowering the collaborations on art and educational practices with private and public institutions, museums, cultural associations, universities, research centers, archives and art collections.
The project focuses on the production of site-specific classrooms of arts run by and seigner by artists and thinkers. During the first four years of programming the classroom has been generously supported by works and ideas of Adelita Hunsni-Bey, Hilario Isola, Diego Perrone, Piero Golia, Seb Patane, Masbedo, Linda Fregni Nagler, Ra di Martino. Projects and productions have been made possible thanks to Acacia, Accademia delle Belle Arti di Brera, Bocconi University – Ask Center, Artissima, Banca Generali, CAP– Contemporary Art Projects, Centro Conservazione e Restauro "La Venaria Reale", Comune di Firenze – Estate Fiorentina, Consorzio di Valorizzazione Culturale La Venaria Reale, Famiglia Massimo Buffetti, Gallerie degli Uffizi, Galleria Vistamarestudio, Galleria Monica De Cardenas, Humboldtbooks, In Between Art Film, IUAV – Corso di Laurea in Design della Moda e Arti multimediali, MANIFESTA Palermo, Marrakech Biennale 6, Media Arts, Miart, Musei Civici Fiorentini, Museo 900 – Firenze, nctm e l'arte, Opificio delle Pietre Dure, Firenze, RESTART, Snaporazverein, Studio Binocle, Triennale Milano, Università Statale degli Studi di Milano, ZerO.
The classroom is a project by Paola Nicolin and Giovanna Silva (editor), Sara Polledri (project coordinator), Luca Bradamante (production manager) and Dallas Studio (design).

info@theclassroom.it | www.theclassroom.it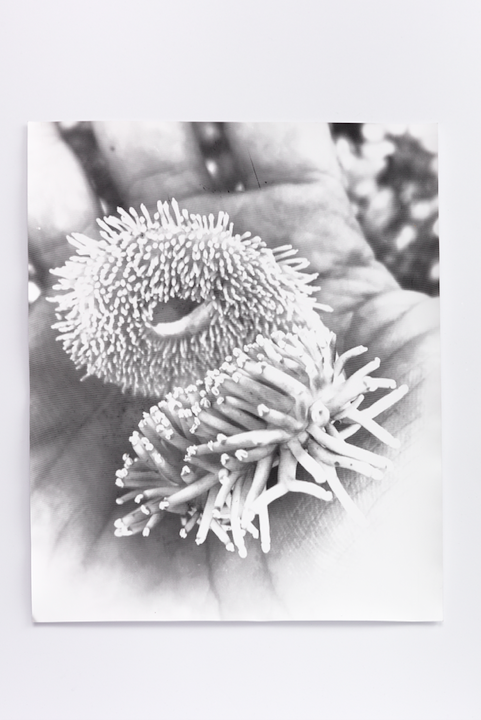 Luca Trevisani Occhi freddi, Super Smart Silicon Silver Salts Since 2019 analogic print on barite paper 50 x 61 cm unique photo Andrea Rossetti. Courtesy l'artista, Galerie Mehdi Chouakri, Berlin, Pinksummer Contemporary Art Genova