ICA Milano begins its new cultural digital program of the year with a selection of specifically conceived projects based on the themes of fragility, solidarity, hospitality and cross-disciplinarity. Among these, starting from March 15th to May 3rd, ICA's digital platform hosts The Polis Project, a hybrid research and journalism organization that produces knowledge about some of the most important issues affecting us, by amplifying diverse perspectives from those indigenous to the conflicts and crisis affecting our world today.
By weekly publishing incisive posts on ICA's website and social channels, the project aims, in specific, at raising a reflection on the politics of representation. For the first month, the selected contents highlight the contemporary pandemic and some of its political consequences that the emergency caused to minorities and underprivileged groups with articles regarding both Italy and India. During the second month, the contents focus on the representation of the other conceived as a reified or exotic body or as a political opponent.
By facilitating the circulation on its digital platform of The Polis Project's contents, ICA Milano confirms its engagement towards the fundamental role of art and culture in the shaping of contemporary daily life, aiming at reconsidering the awareness about our existence while calling into question an Eurocentric and Western perspective which hardly takes into account events and lives taking place out of its geopolitical borders.
The Polis Project is made by: Suchitra Vijayan, photographer, lawyer, political essayist and lecturer; Asim Rafiqui, independent photojournalist and Francesca Recchia, independent researcher and writer.
For further information on the Polis Project: www.thepolisproject.com
*

15.03.2021_Irfan Ahmed: Coronavirus, naked life and the importance of Giorgio Agamben
This essay critically engages with Italian philosopher Agamben's reflections on "naked life" in relation to the state of exception instituted to counter COVID-19. This state of exception is a "new" paradigm of rule where the threat of virus-as-terror trumps mere biological survival over moral, social relations. Future politics is likely to accentuate in the confluence of biopolitics and friend/foe pairing.

Read the full article here: https://thepolisproject.com/coronavirus-naked-life-and-the-importance-of-giorgio-agamben/#.X0zQaR1S8_M

*
22.03.2021_The COVID-19 pandemic brought to the fore lasting structural fragilities and inequalities: An analysis of the situation is Southern Italy
The global outbreak of COVID-19 has confronted countries across the world with an unprecedented emergency to manage. Focusing on the situation in southern Italy, the article analyzes how the pandemic has revealed lasting structural fragilities and inequalities that are triggering a socio-economic crisis on top of the health emergency.
Text by Maria Tavernini and Alessandro Di Rienzo, Photos by Andrea de Franciscis

Read the full article here: https://thepolisproject.com/the-covid-19-pandemic-brought-to-the-fore-lasting-structural-fragilities-and-inequalities-an-analysis-of-the-situation-is-southern-italy/#.X0zQDB1S8_M

*

28.03.2021_Manasi Karthik, India's COVID-19 Response: Modi's masterstrokes are a form of fascist shock therapy".
Modi's lockdown follows a pattern of sudden and drastic policy changes he has brought in during his tenure that have come to be popularly termed 'masterstrokes' or 'surgical strikes'. These 'masterstrokes' are a form of what Naomi Klein calls shock therapy i.e. a program of using shock and crisis to impose sweeping changes to society.

Read the full article here: https://thepolisproject.com/indias-covid-19-response-modis-masterstrokes-are-a-form-of-fascist-shock-therapy/#.YGDwl0gzbfZ

*
Francesca Recchia in conversation with Francesca Mannocchi: "Riflessioni sulla vulnerabilità"
In this interview Francesca Mannocchi deconstructs the ideological dangers and inaccuracies of the parallel between the COVID-19 pandemic and war and hints at the importance of embracing vulnerability as an opportunity hat comes from this difficult time.

Read the full article here: https://thepolisproject.com/riflessioni-sulla-vulnerabilita-musings-on-vulnerability-a-conversation-with-francesca-mannocchi/#.X-m01h17k_M


*

12.04.2021_Suchitra Vijayan: Misogyny and Racism as Spectacle and Performance: A Critique of Mahesh Shantaram's 'The African Portraits' and 'Forbidden Love'.
When a project is constructed around nudity and equated with freedom, does a woman who chooses to not disrobe for any reason then live in permanent unfreedom? How does one photograph women naked and interpret that as "power" when women in India, especially Dalit and Adivasi, are regularly stripped as punishment?


Read the full article here: https://thepolisproject.com/misogyny-and-racism-as-spectacle-and-performance-a-critique-of-mahesh-shantarams-the-african-portraits-and-forbidden-love/#.XphRFJpS8_M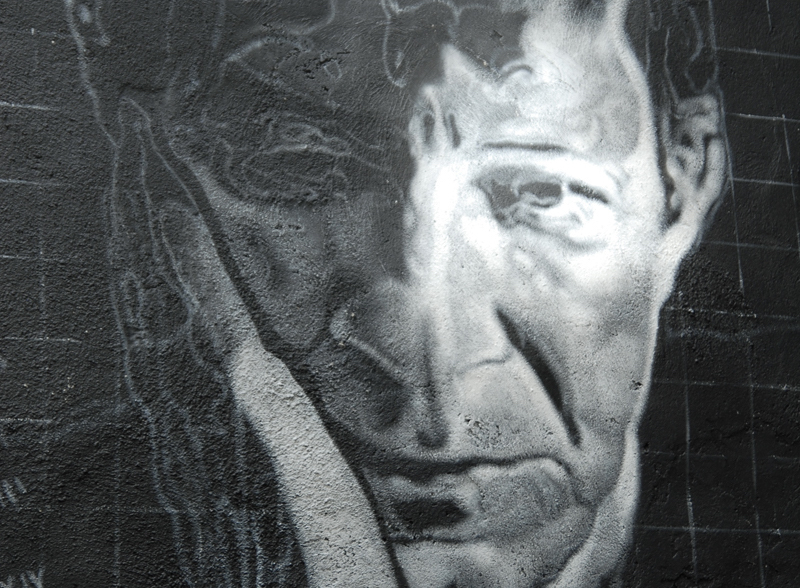 Wall painting of Agamben at the Abode of Chaos, France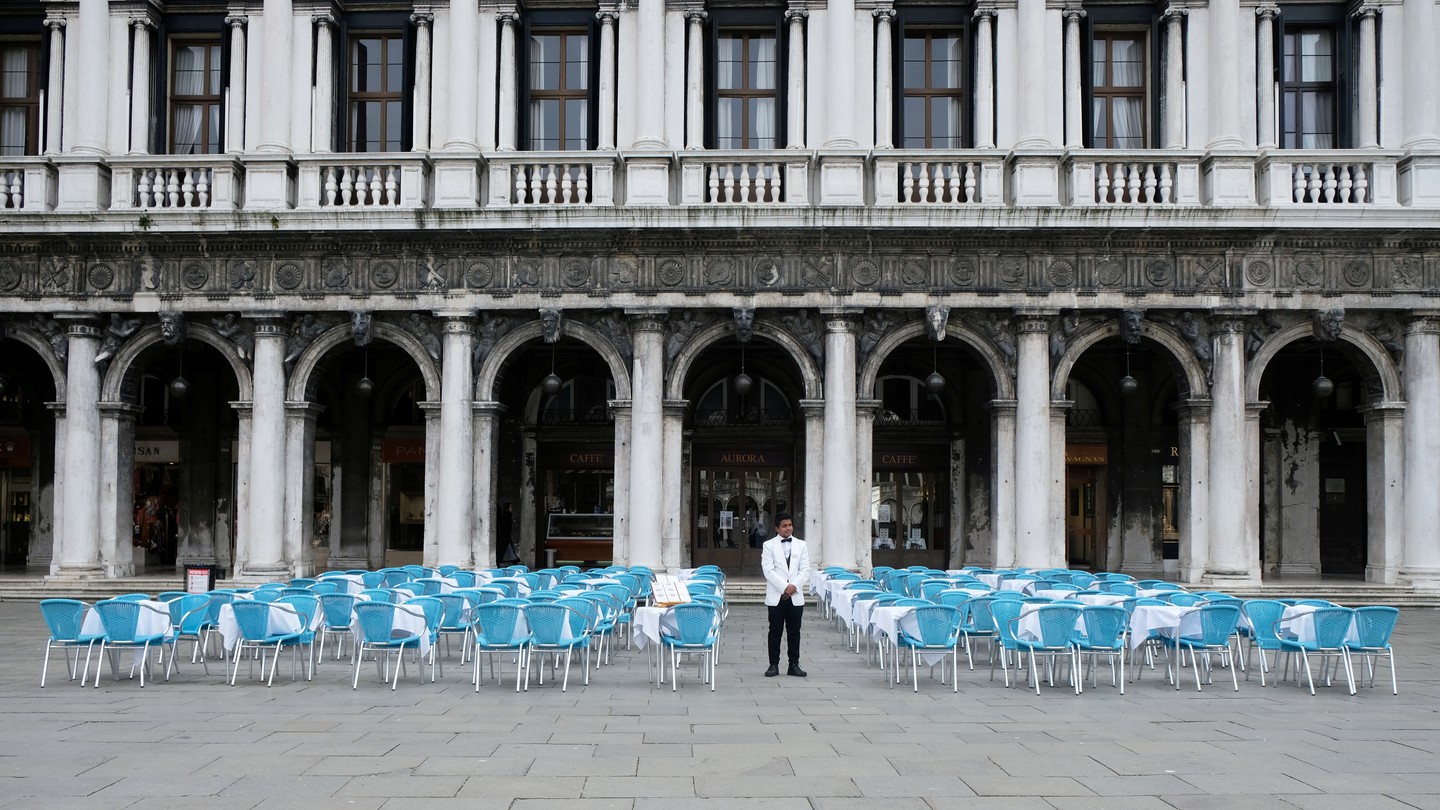 A waiter stands in isolation outside a restaurant in St Mark's Square. A place which used to swarm with tourists. Ph. credits: Mannuel Silvestri, Reuters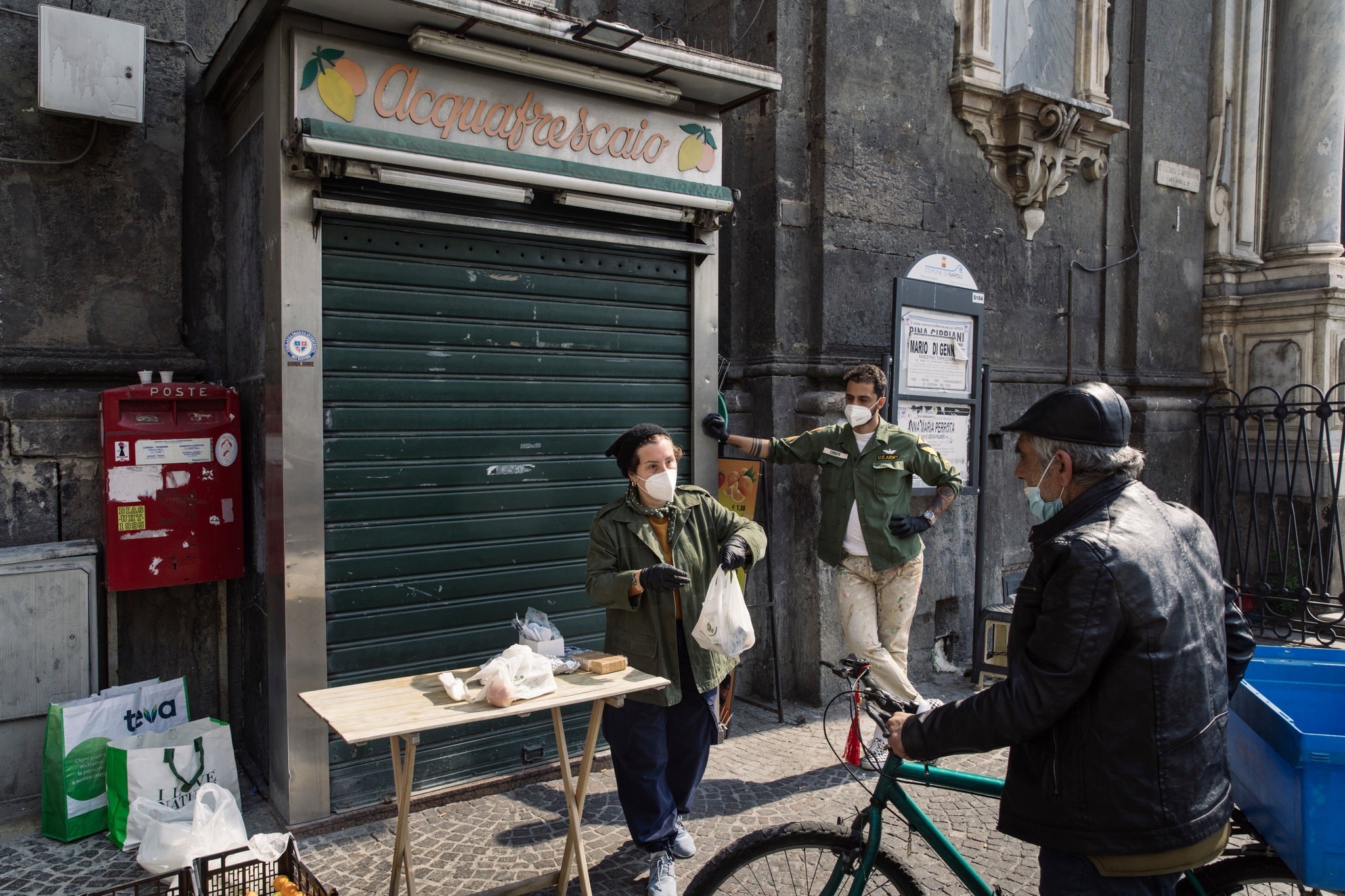 A person distributing meals in Southern Italy. Ph. credits: Gianni Cipriano for the New York Times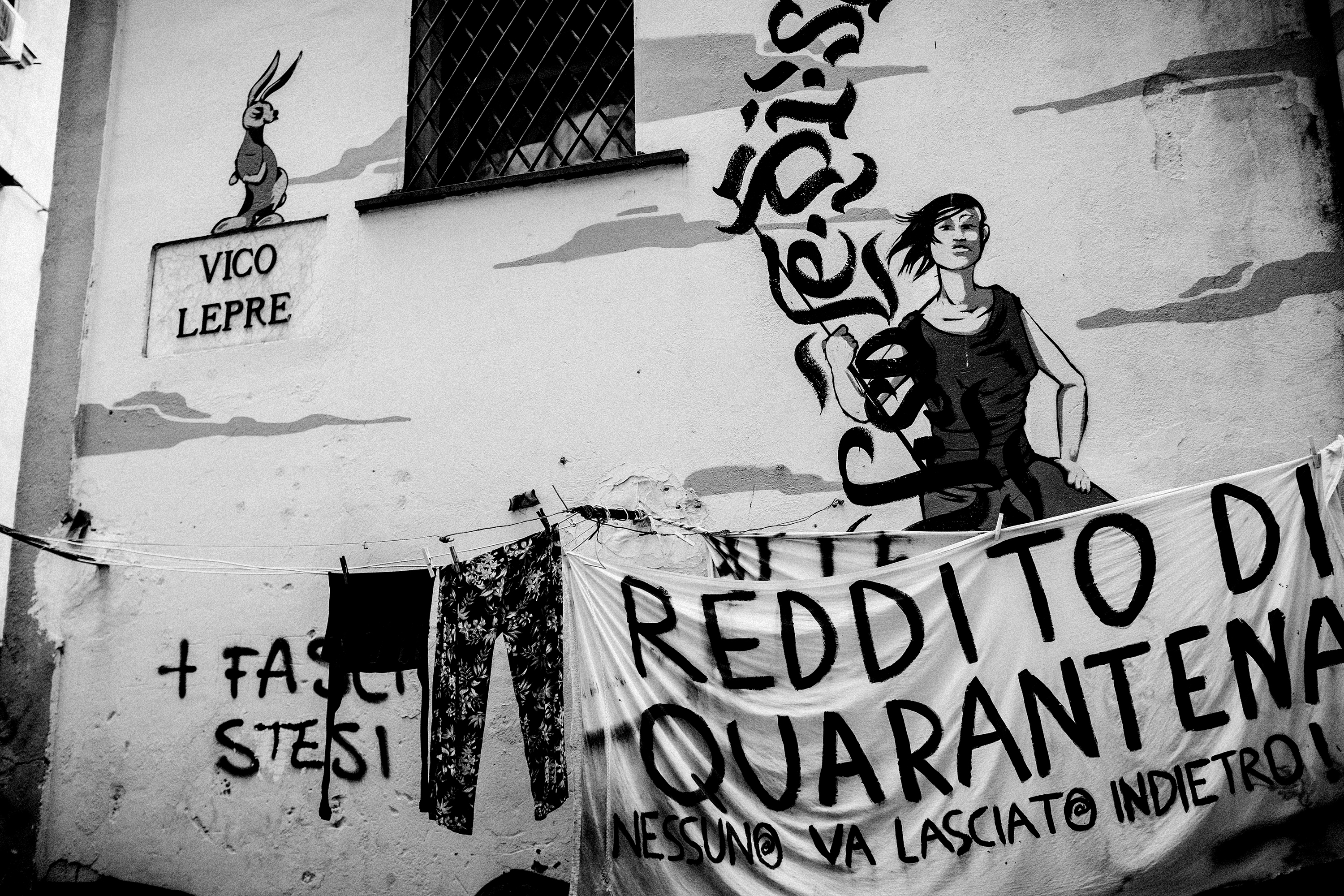 The writing "reddito di quarantena" (quarantine income) hangs outside the Sgarrupato community centre in Montesanto. A call for granting covid emergency income during the lockdown. Ph. credits: Andrea de Franciscis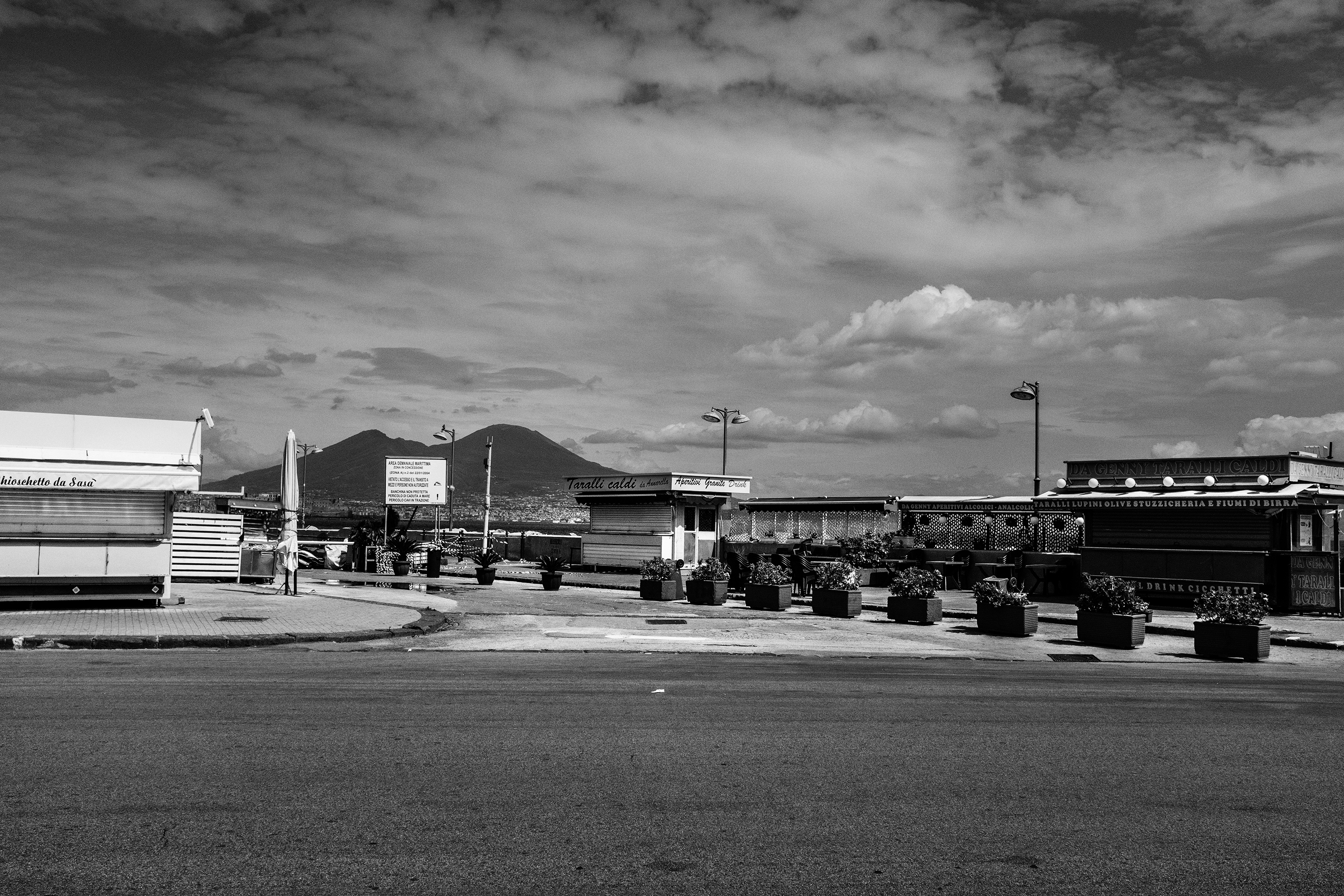 The empty streets in Naples with the Mount Vesuvius in the background. An attentive monitoring of the many ways in which organized crime adapts to changing conditions is a real priority in a city like Naples. Ph. credits: Andrea de Franciscis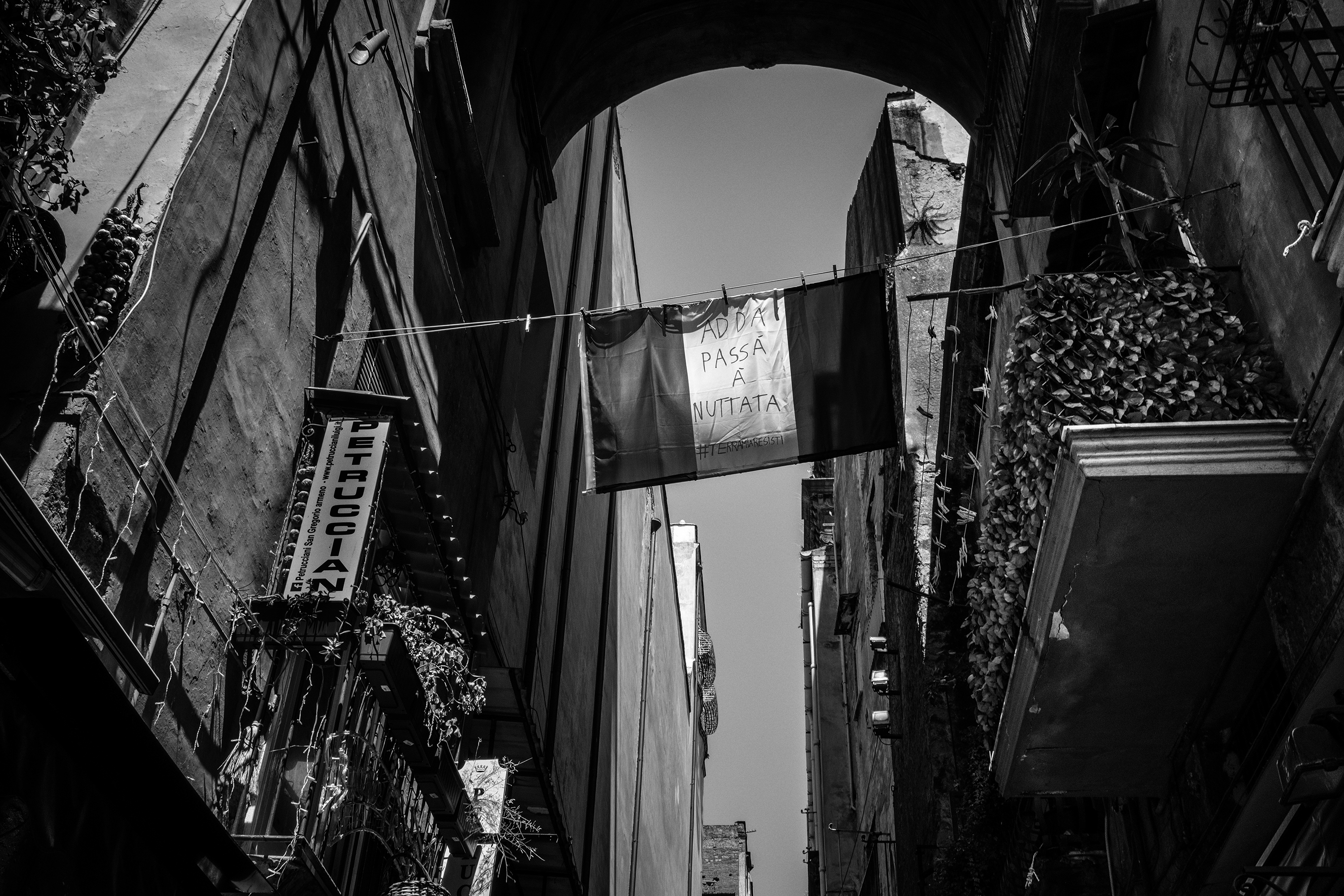 An Italian flag with the writing "adda passa' nuttata" (the night shall pass) flaps between two buildings in the popular San Gregorio Armeno, a popular and touristic street. Catering and incoming tourism, driving sectors in the city's economy, are (and will be) severely affected. Ph. credits: Andrea de Franciscis
A billboard with the Prime Minister's image reads "Modi Government 2.0: There are many accomplishments, but challenges too. Ph. credits Sajjad Hussain, AFP, Getty Images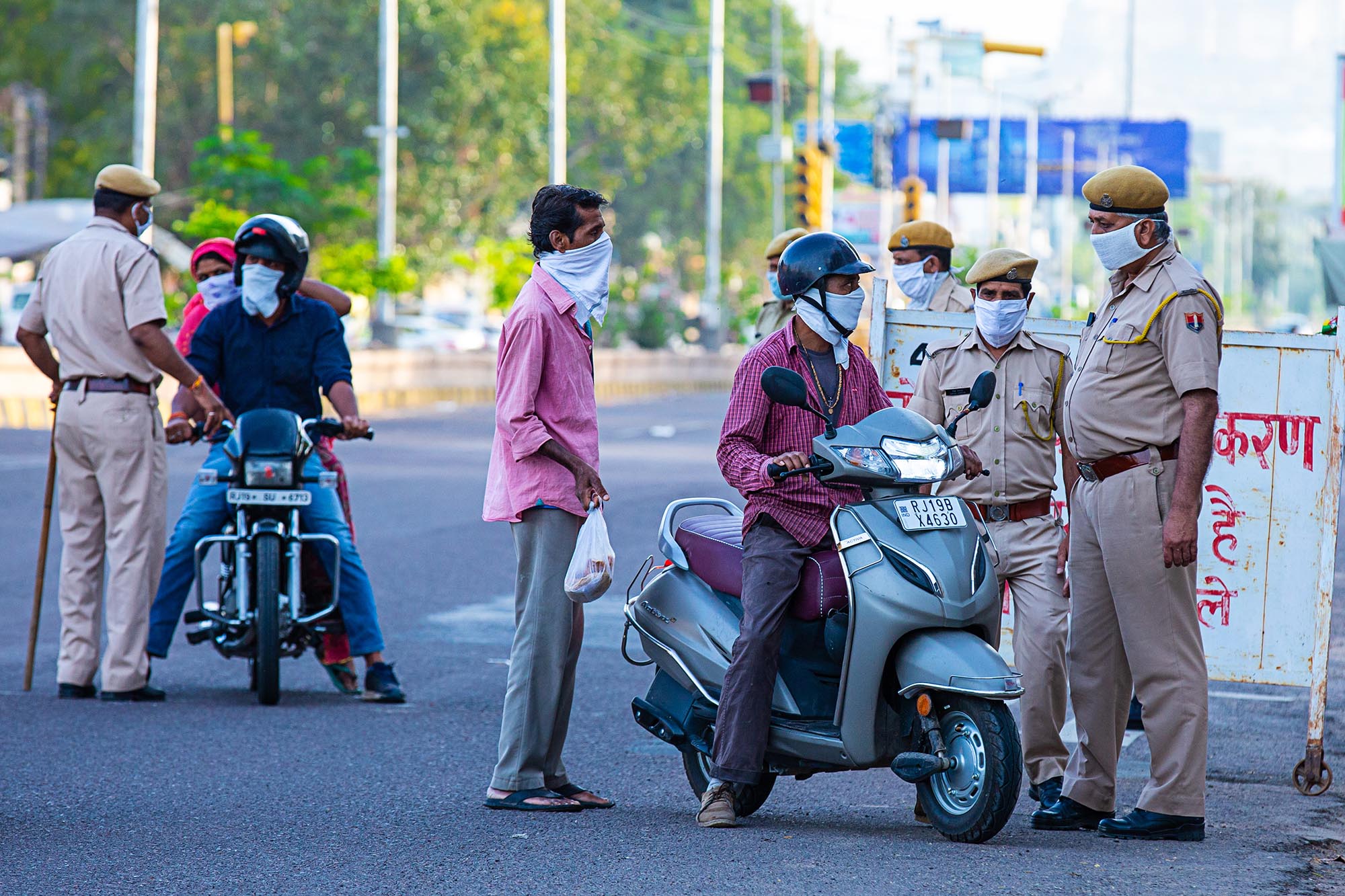 Police officers apprehend citizens for being outdoors during the lockdown.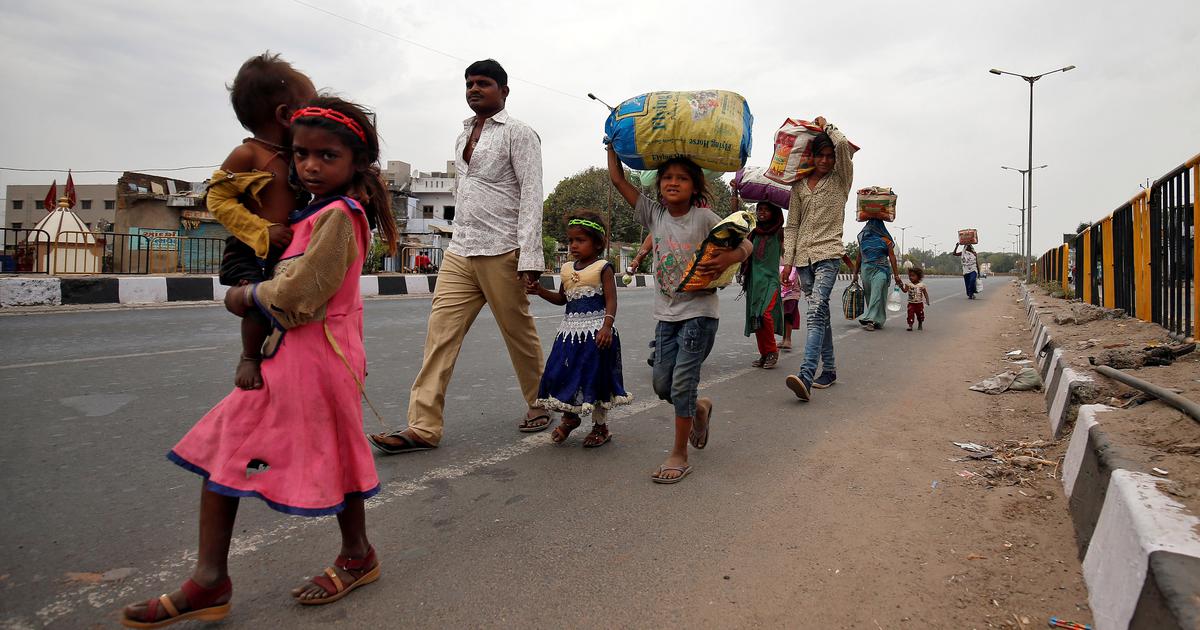 Migrant workers and their families return to their villages after Modi issued a national lockdown at an unbelievably short notice of four hours. Ph. credits: Amit Dave for Reuters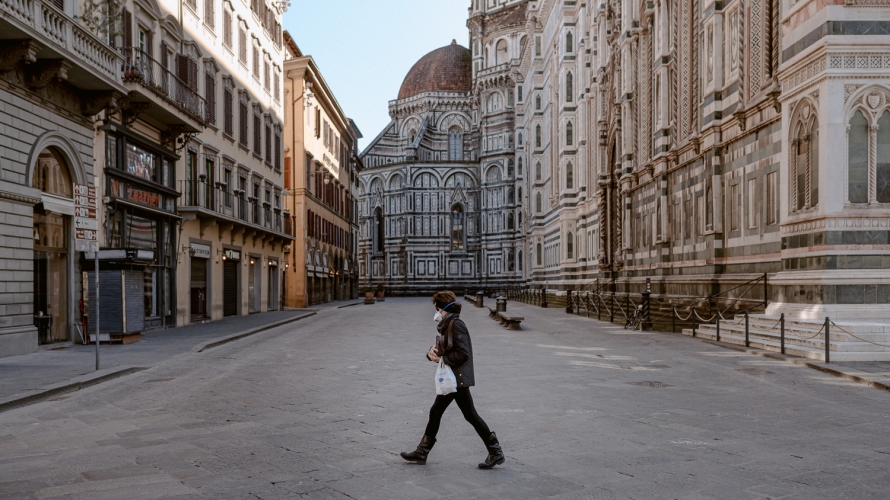 Piazza Del Duomo, a tourist spot in Italy, usually crowded with thousands of visitors is nearly empty during the lockdown.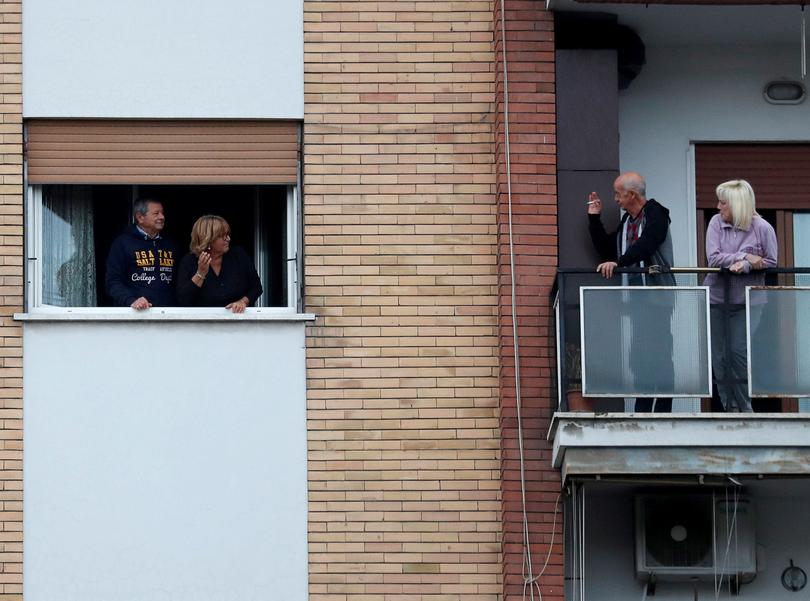 Neighbors greet each other during the lockdown in Rome, Italy. Ph. credits: Yara Nardi, REUTERS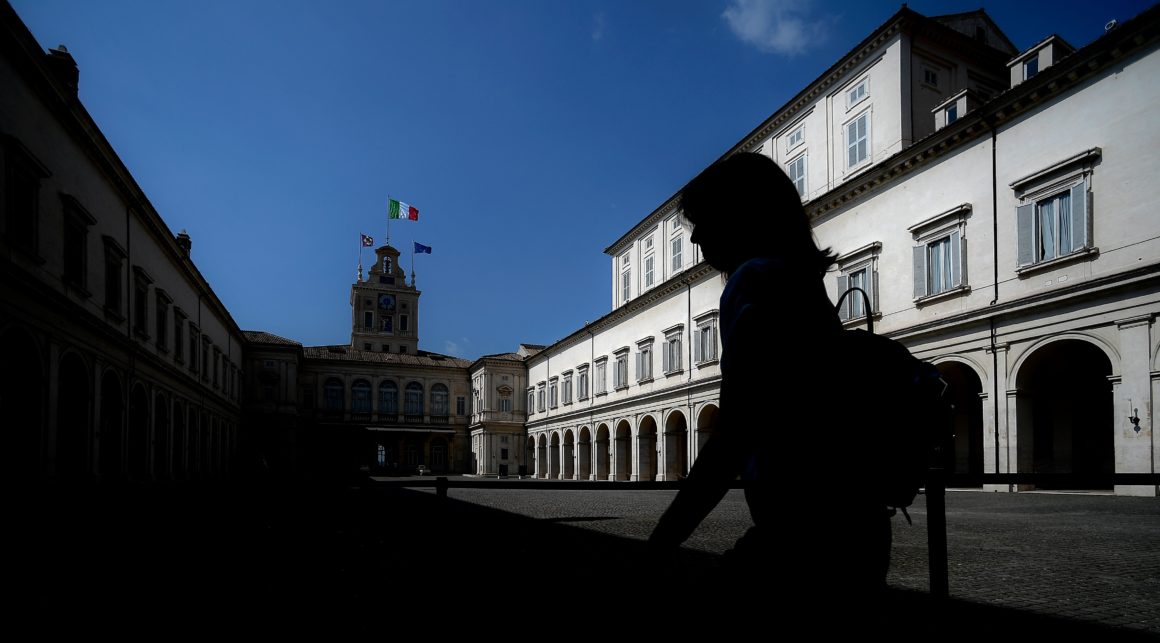 A person walks through an empty square in Italy as the country's flag waves overhead. Ph. credits: Filippo Monteforte for AFP via Getty Image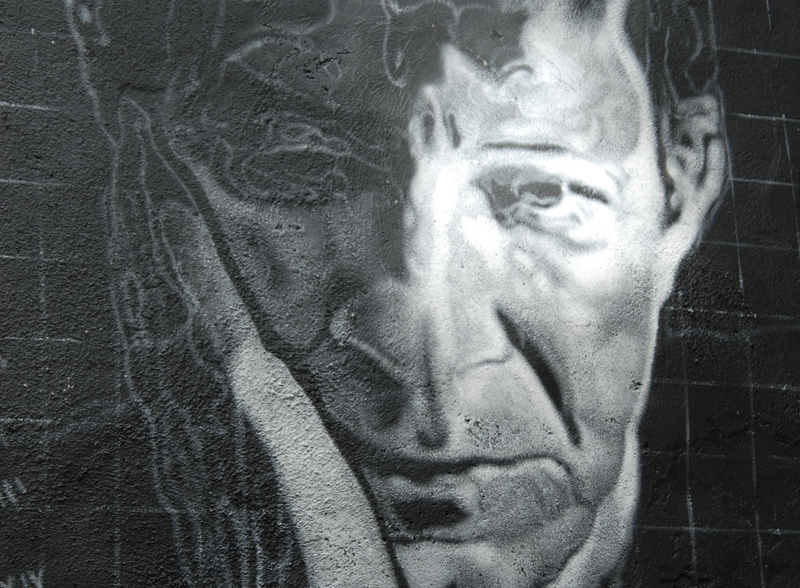 Wall painting of Agamben at the Abode of Chaos, France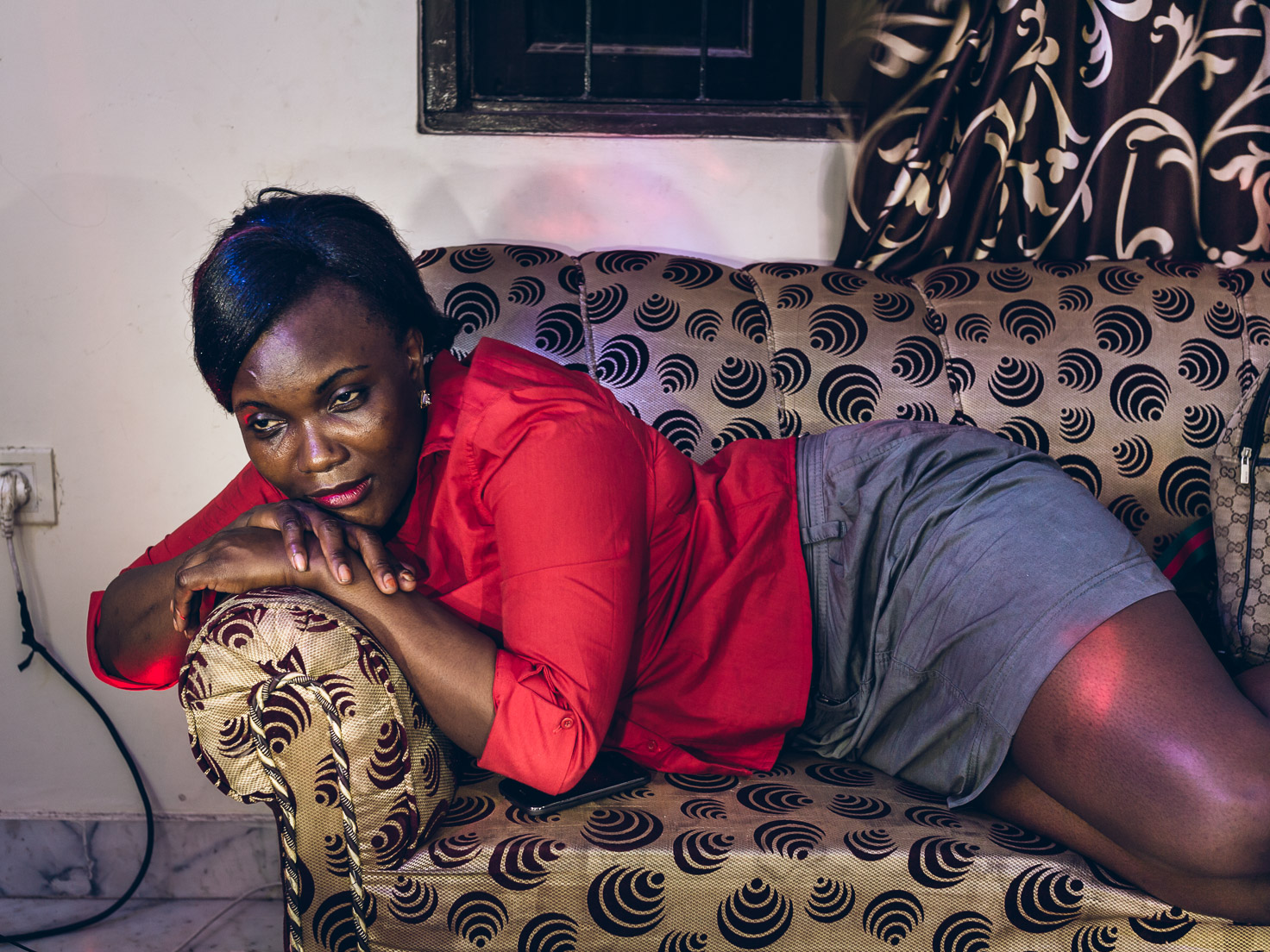 A Congolese woman photographed on her couch by Mahesh Shataram, from the series The African Portraits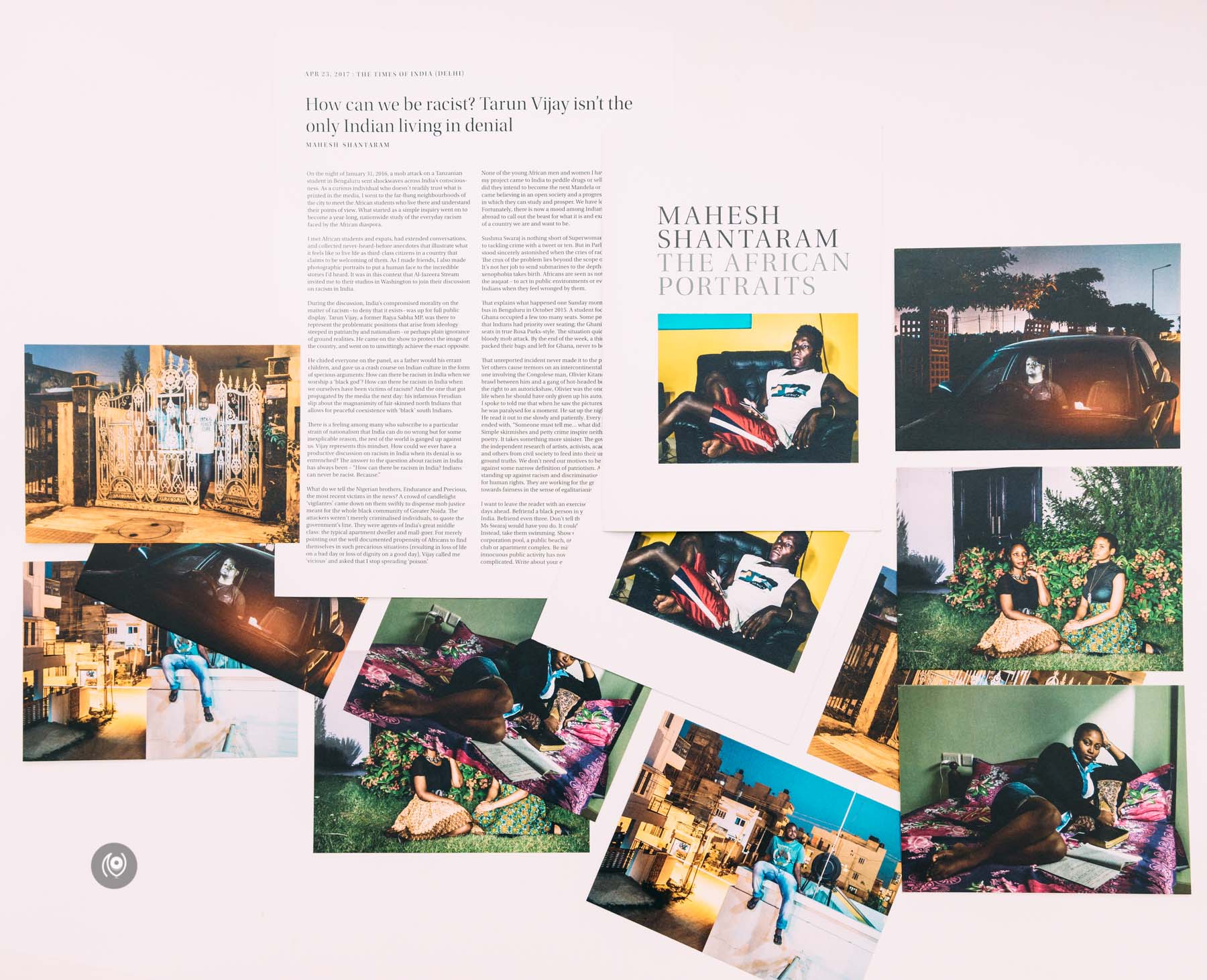 Newspaper clippings and prints of Shantaram's photography collection. Ph. credits Naina Redhu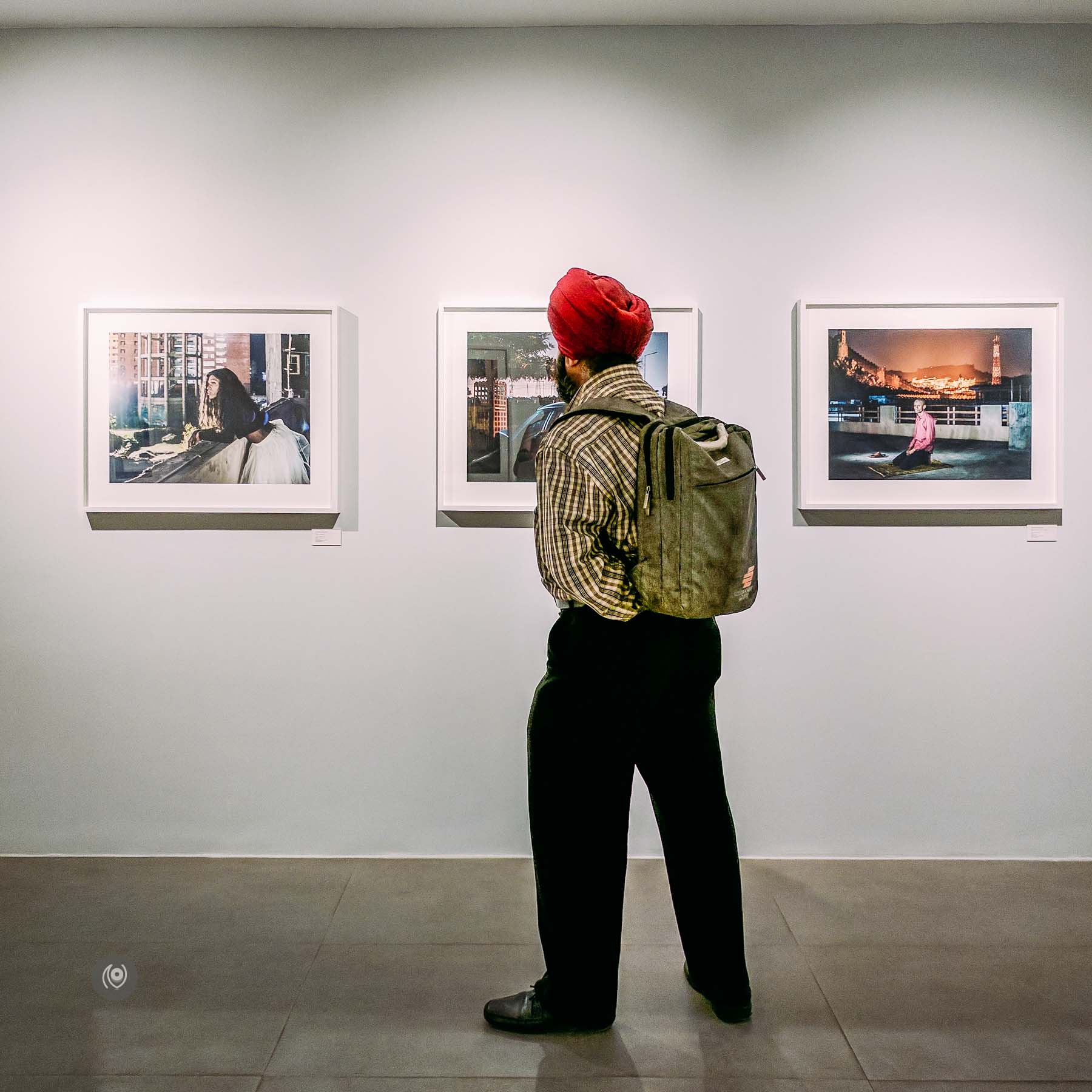 A person looks at 'The African Portraits' at an exhibition in New Delhi. Ph. credits Naina Redhu